Have you ever seen Arsene so down? by Konstantin Mitov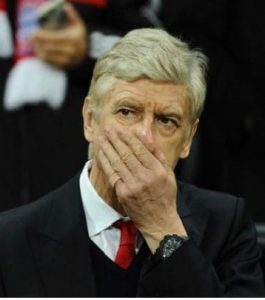 I'm not going to give up on Arsenal. I've never seen Arsenal play under another manager. I've only watched highlights of the great George Graham and that title won at Anfield. When I was young I thought the club was named after Arsene or something due to the name similarities.
I've only watched 2 live games of Arsenal and the one at the Emirates was when we faced Man Utd in 2014 and we lost 2-1 despite dominating the game. Afterwards I said to some people outside the ground that it's another bad performance and Arsene's gotta go.
The reason I say this is because every time we see a big club and we are under pressure to deliver – we fail! Beating Barcelona 2-1 was the last truly great victory of Arsene Wenger in Europe. I can remember the desire we had to outplay Barcelona! The hug Van Persie gave Arsene with that equaliser was like it hugged me!
Arshavin scored a winner and we worked so hard to keep it 2-1 and we did. Players back then weren't that better than what we have now, but we had desire! We had passion! Arsene had passion! He was unwilling to accept defeat, even though he was still clueless on how to deal with those sort of games.
We were mad, because we tried to outplay them, but you know what, I'd prefer getting hammered 5-1 and seeing us attacking rather than being destroyed like headless chickens like we were on Wednesday! We were mad, but there was this romance that in the madness we did play good football.
Now we scrape through games. We have good players who are forced to play a system that doesn't suit them and we wonder why it doesn't work. I loved Van Persie. It's one of the biggest heartaches I had to see him join United. We let Fabregas leave, when there was no need. Then we shipped Nasri with ease too.
Now I understand why they left. Ozil and Sanchez will leave now. Players no longer trust Arsene. They play with heads down from the tunnel. When we concede we die. We were 1:1 at half time! We played Ox on the wing, when he was excellent in the middle, only to play Coquelin and Xhaka who were both plain terrible.
Arsene didn't get off the bench, except to protest against the referee. I see players looking for answers and nobody is there to give it. Younger managers give instructions. They work throughout the game. I am disappointed. A lot of fans payed 4-500 pounds just to see that game! And only 4 players went to greet those people who were humiliated again!
Why do people feel for Arsene, when those people spent a huge part of their salary following Arsenal only to see them fall to pieces. Nobodys paying them 8.5m a year. Bayern once paid back fans their ticket money 'cause of a poor performance, that will never happen here.
It can't get more humiliating. The top 4 is dead if we continue like this. All because Arsene doesn't know when to quit. The time has come, but change is unpredictable. What will happen is uncertain, but that's the beauty of if. I'd actually be excited.
To see players picked because of their performances, rather than their relationship with the manager. It's all over for me. The toxic atmosphere is here because of Arsene and the board. I hope Usmanov takes over one day.
Ambition on the board is long gone. We need change, even if we lose our best players, we need someone who'd get the best out of the squad we've got. Players no longer believe in Arsene. Neither do the fans.
Thanks for the memories, but it's high time to say goodbye!
Konstantin