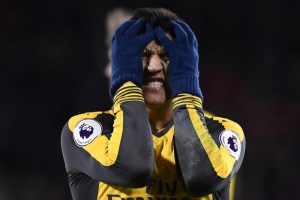 After his wonder goal for Arsenal against Crystal Palace last week, Olivier Giroud was handed another start by Arsene Wenger in yesterday's game at Bournemouth. By the time we were 3-0 down it was time for our attackers to show their worth and in the 72nd minute Giroud somehow managed to get a weird backflip with his head which resulted in Alexis Sanchez pouncing with his head to give us a hope of a comeback. And did you see Sanchez grab the ball and sprint back to the centre circle to get on with the game?
Perez then scored a brilliant second goal, and the Gunners were on all out attack to get the equaliser, even more so when Bournemouth went down to ten men. We were throwing everything at the hosts, and when Giroud finally hit the back of the net with his glancing header that hardly changed the direction of the ball, we still had a few minutes to try and get the winner.
But does Olivier grab the ball and run back to the centre – like Sanchez did? No! He decides to do some stupid dance in front of the fans and let the clock tick down so we had lost half the time left in which we could have got the winner.
GIROUD'S CELEBRATION ??? pic.twitter.com/PD5CGUlz9Z

— Yoann (@YoannArsenal) January 3, 2017
Obviously I think was a thoroughly idiotic thing to do, an I think that Alexis felt the same looking at the way he was gesticulating when he went off the pitch. What do you think?
Giroud got 2 assists and the equalizing goal. Is he....
An Arsenal Hero? (61%, 444 Votes)
An Arsenal Idiot? (39%, 278 Votes)
Total Voters: 722
 Loading ...
Admin