Olivier Giroud is not the key to Arsenals problems.. He IS the problem by ED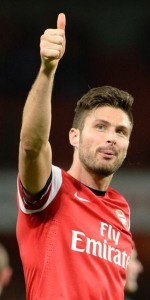 If you love Olivier Giroud stop reading this now…. If you continue remember everyone is entitled to their own opinion and if you're going to defend him; 'good for you'… but it will not change the facts. When I say Olivier Giroud is an inadequate striker the first thing people start spewing out is the fact that he has a fantastic goals to game ratio, amazing hold up and link up play *sometimes (I'll explain the reason for the asterix later on) essentially a whole bunch of nonsense that would have you believing he was a world class striker. Whilst he does a relatively decent job there is no denying that, he is absolutely not good enough to be leading the line at Arsenal.
A month or two ago when we were living in la la land, club legend Ian Wright pointed out something during one of Arsenal's performances that resonated with me, partially because I have never liked Giroud and because he genuinely had a point. He said that "with Ozil on the form he is, Giroud should be doing a lot better than he is at present, not scoring occasionally. He should be scoring every match", "It is not that often you get a guy who could pump out 16 assists at the midway point of the season", "I would have loved to play with a guy like him". I thought about it for a second and every time I used to have an argument with someone who loves Giroud as much as Wenger does, they always told me that if more chances where created, Giroud would be a hell of a lot more consistent than he his…. Fast forward a year later we're in this position again where Giroud goes barren for a prolonged period and scores goals in minor cluster spells instead of showing the consistency required for a forward leading the side for a Championship chasing team.. but the difference being the chances created this year have more than doubled.
The problem isn't a lack of chances, its him… referring back to what I said earlier about sometimes being able to produce moments of magic in a game, He's terrible work ethic, complete and utter laziness during games, wasting chances undermines any of the positive traits he may have. I mean this guy doesn't simply go missing for a single game, you can forget he is on the pitch for an entire month. What makes it even worse for a guy of his size and stature, he is far too nice to defenders he should really be making most out of the size advantage he has. If you put a guy who is 6ft5 up front, your not there for support I want you to reap havoc, basically do everything Costa does but not be a tw*t about its very much possible.
Giroud reminds me a bit of Dimitar Berbatov, as a matter of fact I am wholeheartedly convinced Giroud is Berbatov in disguise, because he is the only striker I have witnessed who can go more than two months without a goal and finish amongst the top 3 strikers in the Premier League, completely similar in style, both very classy finishers, brilliant hold up play they are also both lazy as hell and occasionally turn up in random clusters of games which 80 percent of the time are worthless in the hopes of winning any silverware, but do just about enough to convince you that they are better than they are.
Of course Giroud will probably score in the final four games of the season (mark my words), have you believing we don't need another striker when the summer transfer window arrives, in fact he will probably try to convince you he can score 25+ goals (in general), which we can finally put to bed is the minimum requirement for a Centre forward in a title chasing side because as we've seen, and the fact remains, no one has won the title and not had someone score that amount of goals or more in a season, at least in the past 4 years. And before you sit there and start calling me delusional, ask yourselves the question when we've needed him the most in the past four years where has been? Whilst I accept there was at least a season where injury played a factor in the lack of goals, there is still another 3 seasons to account for, when we've been in the run in for the title and he has simply failed to perform.
Olivier Giroud's Arsenal Career
Premier League
Season……… Apps…….Goals
2012-2013……24 + 10……11
2013-2014……36 ……….16
2014-2015……21 + 6…….14
2015-2016……21 + 8…….12
Total………102 + 24……53
And that, my friends, is why Arsenal cannot win the title with Olivier Giroud….
Eddie D