Everyone expects a few surprises on Deadline Day, but there are very few Arsenal fans that believed there was any truth in yesterday's rumour that Mikel Arteta had made an offer to sign the 31 year-old Chelsea star Jorginho.
Considering Arsenal's past dealings with Chelsea when they have bought older players that were surplus to requirements at Stamford Bridge, there will be a lot of dissention in the ranks of the Arsenal fans, especially after the bebacle with Willian when Arteta first arrived.
As for defenders, the Gunners also signed David Luiz, who, although an able servant, was very prone to serious mistakes that ultimately cost us points.
So now, according to the Arsenal transfer guru David Ornstein, not to mention the BBC as well,we are closing in on yet another Brazilian in the form of Jorginho, who is without doubt a highly decorated and respected player, and I am assuming that Arteta thinks he will be good enough to do the job until he can get his real targets to come and join his project..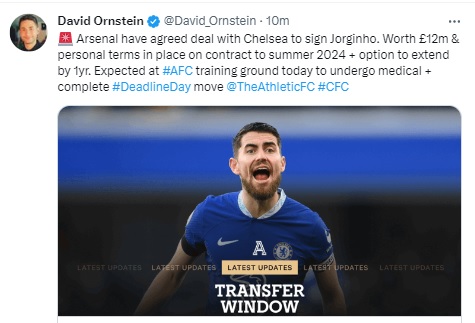 This does have a whiff of a panic buy to me though, what do you think?
—————————————-
WATCH EVERY ONE of Mikel Arteta's and Jonas Eidevall's Full Press conferences by subscribing to our YouTube Channel – JustArsenalVids
CALLING ALL ARSENAL FANS! Anyone who would like to contribute an Article or Video opinion piece on JustArsenal, please contact us through this link…