It looks like we could be having a double unveiling as the Arsenal guru David Ornstein has now confirmed that, despite the usual delays, the transfer of Jurrien Timer to Arsenal is now fully agreed.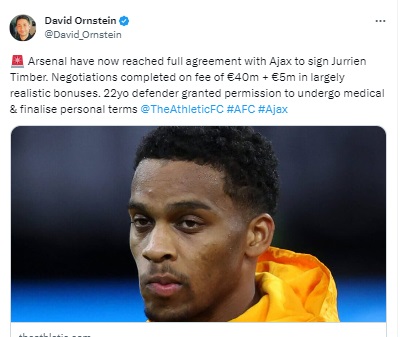 Despite being at a tender age, the 21-year-old has exhibited exceptional leadership qualities for Ajax and boasts an impressive wealth of experience in top-level European competitions, along with 15 international caps. Timber primarily operates as a center-back, but has also showcased his skills as a right-back and defensive midfielder on certain occasions, which is the most important thing for Mikel Arteta.
Renowned as a quintessential modern center-back, he possesses remarkable ball-handling abilities, a wide passing range, and the capacity to swiftly advance the ball from the defensive line. Consequently, numerous European clubs have been closely monitoring the talented native of Utrecht for a long time, but it is Arsenal that has managed to persuade him to join.
Welcome to Arsenal Jurrien!
CALLING ALL ARSENAL FANS! Anyone who would like to contribute an Article or Video opinion piece on JustArsenal, please contact us through this link…