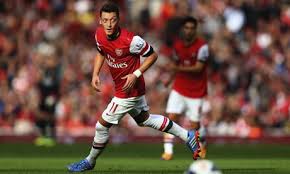 The biggest Arsenal exit rumours all year have been related to our biggest stars Alexis Sanchez and Mesut Ozil, and the consensus amongst the fans is that the German is the one most likely to stay at the Emirates beyond this summer.
Now the player himself has confirmed that he is looking forward to beginning the pre-season with the Gunners when they travel to Sydney next month. "I hear Sydney is a nice city with a lot of nice people living there," he said on Arsenal.com. "I don't know a lot about Australia but this is a good opportunity to see the city, the people and I'm really happy to go there with Arsenal.
"It is really good to have pre-season with the team, in my career it has always been like that. If you play at a big tournament, especially with Germany, you really miss pre-season.
"Two years ago we went to Singapore and it was a nice experience to see the city and the fans, and to train how we do in Sydney. So I am excited to do the same in Australia. I can't wait to go there."
So how more clear can he be? Surely if he was going to leave he would want to be with his new club? Does this mean can stop worrying about losing both of our biggest stars?
Admin