Arsenal's most expensive signing ever, Alexandre Lacazette,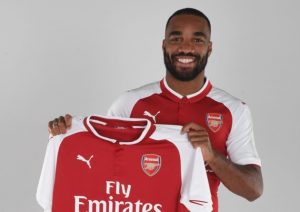 must be thinking he is earning fortunes for only having to do a part-time job since his arrival at the Emirates. The Frenchman has played absolutely zero minutes in either the League Cup and the Europa League and has averaged just 70 minutes in each of Arsenal's Premier League matches since his arrival.
It was revealed when we bought him from Lyon that Lacazette would become our top earner getting an amazing 200,000 Pounds a week. He is probably worth it given his goalscoring prowess, but so far it is working out that he is getting 3000 Pounds for every minute he has spent on the pitch, which is not a bad rate of pay in anyone's book!
Many Arsenal fans have questioned why the French international can't manage to stay on for the whole 90 minutes of games and maybe score more as our opponents get tired legs, but Arsene Wenger is adamant that he will continue his policy of taking him off in the later stages of games.Le Prof told Arsenal.com: "First of all I would like to say that in my job you sub strikers more than defenders, because they have to create, they have to provoke, they have to be incisive in every run.
"Secondly, I think he adapts physically to the Premier League and I'm very happy with the work he does for the team every time he is on the pitch, and thirdly I do that as well because I have other options on the bench who are fresh and can give us another variation in our attacks.
"Physically, the Premier League is very demanding. It demands a huge intensity of work and if you look at the other teams, they take off a lot of strikers as well after 70-80 minutes, between 60 and 80 minutes most of the teams change their strikers because first of all many times they have to work on their own up front against two or three people. Up front you provoke and at the back you respond, so it's completely different and much more exhausting physically and mentally."
Ahh poor lad. Physically and mentally exhausting eh? How hard would you work to earn £3,000 per MINUTE!
Darren N