Arsenal legend Emmanuel Petit has described Granit Xhaka's reaction towards fans as 'unacceptable', the Frenchman added that the midfielder's actions were like a 'betrayal'.
Writing for Paddy Power News, Arsenal legend Emmanuel Petit has slammed Granit Xhaka's heated reaction to being booed by Gooners during our 2-2 draw with Crystal Palace.
The Swiss midfielder reacted angrily to boo boys, the 27-year-old seemed to tell supporters to "f*** off" whilst he was walking off the pitch.
The aggressive midfielder also ripped off his shirt before storming down the tunnel. It's very hard to make the case that Xhaka should play for us again after this.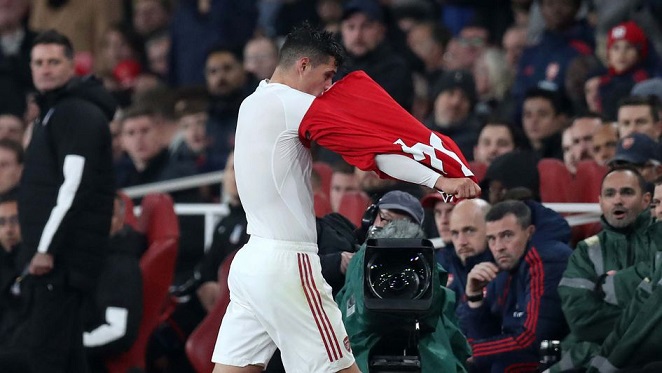 Here's what our retired midfield powerhouse had to say on Xhaka:
"I have never seen anything like what happened with Granit Xhaka before."
"For me, he can't be the Arsenal captain any longer. It's impossible. What he did was unacceptable."
"What he did on the pitch is one thing, I've made it clear that I don't know what he adds to the team"
"But what Xhaka did as he left the pitch is totally different. You can't do that – it's like betrayal in England."
Petit reiterated that the reaction from fans was unlike anything he'd ever seen before:
"I have witnessed fans booing players before, of course, but not like this. The anger was something else. It's clear, they don't want him to play for Arsenal any more."
It's well-known amongst the fanbase that the Swiss star is often the target for criticism when things go wrong, but even considering this his actions seem inexcusable.
It's since been revealed that the club's hierarchy are set to hold crunch talks with Xhaka to discuss his future.
The star's reaction has taken the football world by storm, hopefully the incident hasn't disrupted the squad too much ahead of tomorrow night's mammoth League Cup clash against Liverpool.
Given our worrying recent form, the last thing we need is off-the-pitch incidents that have the potential to impact the team's performance.
Tomorrow's tie seems far to soon to bring Xhaka back into the fold – if that's even on the cards for Unai Emery, the midfielder needs to be kept out of the limelight until this furore dies down.
Which Gunners star would you like to take the captain's armband now that Xhaka is out of the question?