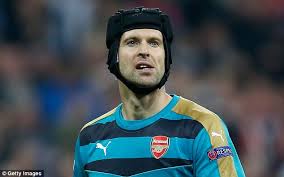 What's more concerning, giving away penalties or the fact Cech can't save them?
Arsenal faced defeat in the Premier League this evening, losing 2-1 to Everton at Goodison Park. The Gunners led the game 1-0 for most of the first half, only before an Everton equaliser right before half time and then a sucker punch winner for Everton in the last minutes of the game.
It was an awful performance from the Gunners and it means that Arsenal have now lost twice in the league this season and on both occasions it's been against Merseyside opposition. One thing that is a big concern is our poor defence run in recent weeks. The Gunners have been unable to keep a clean sheet since the 0-0 draw with Middlesbrough in Game Week Nine. The match against Everton was game week sixteen.
It's brings me onto the main topic of conversation, Arsenal's inability to stop penalties against us. It's not just poor defending at hand, but when the Gunners do give away a spot kick, Cech seems unable to save them. Arsenal have already had five penalties given against us this season, which is more than we've given away in the past two seasons combined. It's a worrying statistic for the Gunners, with still half the season to go. A penalty against you can put a side on the backfoot not just in terms of the score line, but it can also make a side feel depleted, especially if the team has lost a man to a red card.
Cech has never stopped a penalty in the Premier League in an Arsenal shirt and although you could argue he's only had to face seven during his stint at the club, it is a worry that the former Chelsea man hasn't saved a penalty in the league since 2011.
Now Cech must surely do his homework on penalties before Arsenal face the opposition each week, so why is it so often he fails to guess the right way?
Going back to shocking statistics, Arsenal have in fact given away four penalties since our last clean sheet. The Gunners may be amongst the top scorers this season and outscoring your opponents means you win the match, but it is a big concern that our defensive duties seem to be lacking a lot in recent weeks.
Cech is known to be a world class shot stopper, perhaps amongst the very best goalkeepers to have played professional football. But I can't help but feel that his form and ability does seem to have fallen slightly since his Chelsea days and it leaves many wondering just how the Gunners and Cech can improve their defensive record in the latter half of this season.
By AH