On Monday night Liverpool visit the Emirates to face Arsenal, the first real test of the Gunners title ambitions after mixed fortunes in the opening two games against West Ham and Crystal Palace.
The game will see both club's marquee summer signings, Petr Cech and Christian Benteke, come head-to-head. Opta-powered fantasy football game www.oulala.com have taken a closer look at Petr Cech and analysed how he has fared in Arsenal's opening games against his performances from last season.
Cech made just seven appearances for Chelsea in the Premier League last season. With Blues manager Jose Mourinho installing Thibaut Courtois as the club's first-choice Number One.
Despite only enjoying a handful of games last term, the Czech international impressed.
The 33-year-old registered 5 clean sheets in the Premier League, an overall clean-sheet-rate of 71.4%. For each of the goals that Cech conceded last season, he made 7 saves, resulting in a save every 43 minutes.
The keeper made an average of 1.6 catches and just 0.3 punches per game in the Premier League for Chelsea last season. While his distribution accuracy came in at a respectable 63%.
Expectations were high after the Czech's high profile move to Arsenal in the summer with much talk that he could take the north-London club to a new level.
However, his Arsenal career didn't get off to the best of starts, losing to West Ham 2-0 at the Emirates, with Cech questioned for both of the goals. The Gunners recovered from their opening day defeat with a hard-fought 2-1 victory at Crystal Palace.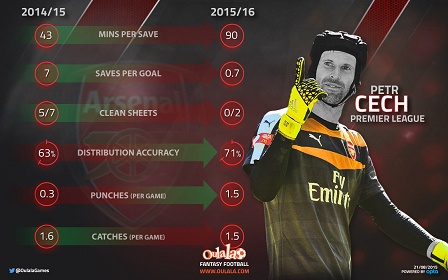 Cech is still yet to keep a Premier League clean sheet for his new club. He has made far fewer saves for each of the goals that he has conceded in comparison to last season, just 0.7 saves per goal. While each save that Cech has made has come every 90 minutes.
The Czech is making far more punches per game (1.5) than he did for Chelsea last term, which is not always a good sign. With his catching stats falling narrowly to 1.5 per game. The 33-year-old's distribution is up to a very healthy 71% this season.
Benteke has netted twice against Cech, in May and August of 2013.
Will the Belgian add to his tally against the Czech or can the keeper notch up his first clean sheet of the season?
Russell