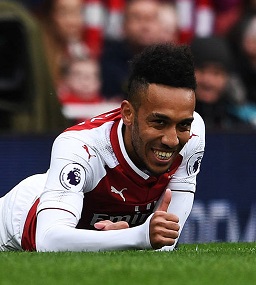 Liverpool vs. Arsenal: Four Key Players that can make A Difference at Anfield this weekend. By Obiweluozo Martins
The stage is for a titanic battle as Arsenal travel to Merseyside for one of top clashes in the Premier League season. Jurgen Klopp may be the clear favourite going into the fixture after hammering Arsenal 5-1 on Christmas Eve last year. The Gunners lost the match despite having taken an early lead in the game thanks to the effort from young defender Ainsley Maitland-Niles. The Arsenal manager would be hoping for a better return this time around as the Gunners has readily been improved following the additions of Nicolas Pepe (from Lille), Madrid's Dani Ceballos and David Luiz (from Chelsea) this summer. As the match draws closer by the minutes, we evaluate four (4) key players that can make a difference in the match.
Mohamed Salah
The Egyptian star might have scored only in the 4-1 win over newly promoted side Norwich but expect him to buckle up and deliver for his side against Arsenal. The Londoners may have got quality at the back with Nacho Monreal and Sead Kolasinac coupled with the acquisition of David Luiz this summer. But Salah's pedigree and match record suggests that he may well-get a goal and even more in this tie, as he's proven capable of doing so a couple of times for Jurgen Klopp's Liverpool.
David Luiz
The Brazilian may well be making his second start for the Arsenal first XI after playing his 1st) debut match against Burnley. He slotted in nicely to ensure the Gunners won the game 2-1 despite Sean Dyches tactical input against Unai Emery's Arsenal. His experience will be an asset while also providing the calmness Arsenal needs at the back. He presents a special possibility for Arsenal especially in free kick situation while also adding the flair you would love to see on an Arsenal shirt. Luiz brings the guile and the inspiration the back four needs, for positivity going against the Liverpool opposition as his side faces a stern test away from home.
Pierre-Emerick Aubameyang
The Arsenal top marksman would love to score against Liverpool especially as he failed to live up to expectation on his previous visit to Anfield. The Londoners lost 5-1 and his form in the game was nothing to write home about as it threatened his manager's job while casting doubt over Arsenal's season as the defeat somehow downplayed the Arsenal potential. This has to change as Aubameyang would be expected to make amends after scoring 2 goals from 2 games against Newcastle United and Burnley with his second goal a beauty to behold, as we look forward to more of that when they face Jurgen Klopp's men.
Virgil Van Dijk
It would be injustice not to mention this player despite his involvement in Adrian's howler last weekend against Southampton. He's proven to be a buckler to the Reds defence after his move to Merseyside last season from Southampton. He's produced the goods in the Red shirt while collecting a couple of awards on account of his quality performances. He was the defensive architect that engineered Liverpool's run to the UEFA Champions League last season defeating the mighty Barcelona en route to European glory for the Reds. Such was his contribution that we expect a reminiscence of such magnitude this weekend.