The perfect Arsenal 5-a-side team by AB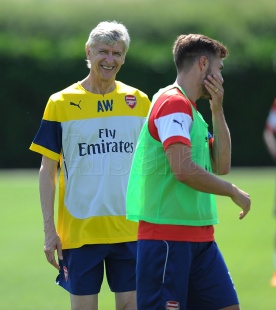 Arsene Wenger, without a doubt, likes his intricate, ball-playing sides. Samir Nasri's goal against Fulham back in 2010 perfectly summed up Wenger's philosophy; on the floor, technical and rapid.
We reckon the Frenchman could construct a killer 5-a-side team, especially with the players currently at his disposal. Wenger has actually given it some thought, of sorts, once explaining his blueprint to FourFourTwo, and outlining the traits needed to be a good 5-a-side player:
"To excel at five-a-side you need the same qualities it takes to be a good footballer," Wenger told FourFourTwo,
"The only skill that isn't necessary is the ability to play the ball long or in the air,.eye for goal, the ability to pass, vision and above all the intelligence to put all these aspects into practice."
We've taken this and run. Check out our picks for an all-star Arsenal 5-a-side side. Have we nailed it, or do you think you can do better?
Goalie: Petr Cech
We might have gone with Szczesny if he was still about, considering his reflexes, but Cech isn't a bad second choice! Still the best in the Premier League from our perspective, the Gunners number one is a brilliant shot stopper with remarkable instincts, as his performance against Liverpool last weekend clearly proved.
Defender: Laurent Koscielny
While we all know of the Frenchman's consummate defending abilities, speed from scratch, and commanding presence at the back, there might be some who doubt whether he has the skill needed for the 5-a-side pitch. Well, we'll just leave this here:
Midfield: Alexis Sanchez
The Chilean was born to play 5-a-side. Teams can't contain him on a full pitch, so how would they cope with him in the cage?! Speedy, tricky, strong, and full of relentless attacking invention; Sanchez would be a bone fide star of the small stage.
Midfield: Alex Oxlade-Chamberlain
Like the aforementioned Sanchez, the Ox has all the attributes to succeed here. Powerful and full of running, he'd be quite the engine. Both his central and wide midfield penchants would benefit him, and he could be the box to box man in this all-star Arsenal V.
Striker: Danny Welbeck
Dat guy occupies the spot up top due to his balance between power and pace. We fear Walcott might get pushed around a little, and Olivier Giroud is more the link-up hitman. And with headers off the table, the Frenchman would be without his main weapon. Welbeck is selfless, confident and very able.
What do you think? Have we missed any candidates? Would Santi Cazorla cut it? Ozil? How about Hector Bellerin at the back? We'd love to see your lineups, so get cracking in the comments!
Playing football this weekend?
Fancy playing a 5-a-side game with your friends? Goals, the world's largest and most respected operator of 5-a-side pitches, is the place to be. With over 500 pristine, FA accredited pitches at all-weather centres spread across the UK, Goals is the ultimate destination to scrap for bragging rights under beaming floodlights.
Ranging from between £60-£73 per pitch (just over a tenner each), and with leagues and tournaments to join/create, top notch shower and changing facilities, an exclusive app to keep track of progress, and fully licensed BT Sport lounge bars in every location – you and your mates will be strutting the Ronaldinho on (and off) the pitch in no time!
And if that wasn't enough, how about receiving new gear and beer on the day, and potentially winning prizes from a treasure trove worth £200,000?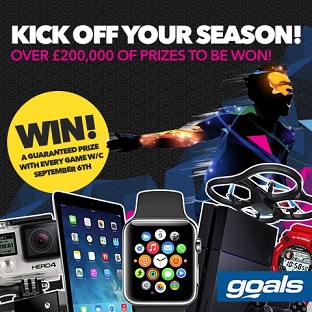 Goals are gearing up to launch their Kick Off Festival week, and teams booking a pitch on or after the 6th September will be given a guaranteed scratch-card on their arrival, with prizes ranging from new shin pads and goalie gloves, to pitchers of beer for celebrations (or wound licking) after the game!
There's also an automatic entry for those teams into the main prize pot, with an Xbox One, PS4, Go Pro and iWatch just some of the amazing kit up for grabs!
Head over to the Goals website for a quick and easy register, with 10% off all pitches booked online!