He has been a key player for Arsenal in many games this season and Mesut Ozil came up with the goods again this week to help the Gunners to a fantastic win over a brilliant Bayern Munich featuring some of his team mates from the Germany national side.
After the game our German play maker gave his thoughts on the game and how Arsenal managed to surprise everyone and become the first team this season to overcome the on fire Bundesliga champions. As well as taklking about the side of the game he is known for, the chances we created, Ozil recognised that the result was down to the fighting qualities of heart and belief that a team also needs.
He told Arsenal Player, "Firstly we're very, very happy. To win against Bayern Munich is really hard and we knew that it would be a tough game but you could see during the match that we created a lot of opportunities, especially in the first half, when Manuel Neuer made some superb saves.
"But ultimately I think we deserved to win. They had more possession but we had the clearer chances and that's why we're really pleased to have got the three points today.
"We concentrated from the first minute until the last minute. We believed in ourselves and we knew that we had made massive mistakes in the first two games.
"Today was our last chance – we had to win. We did that and now we're back in the game. We're all the happier for that.
"We showed heart and the fans supported us superbly. The most important thing is the three points.
"We have to believe in ourselves, keep working hard and then we'll be on a good path."
These aspects of the game are things that Ozil and the whole Arsenal team have been accused of lacking in recent years but it really does look like the Gunners are putting it right as a unit and becoming the real deal. If you have any doubt, I have a couple of pieces of evidence to prove my case.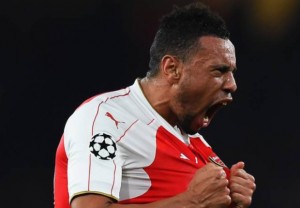 This picture of our midfield warrior Francis Coquelin celebrating after the victory over Bayern should leave you in no doubt of how much it meant to him, as the passion is almost popping out of his veins. He is the embodiment of the steely new Arsenal and I loved to see him berating Alexis Sanchez for putting us in trouble with a poor pass on Tuesday.
My second point, m´lud, is the way that young Hector Bellerin came back from perhaps his toughest first half of football in an Arsenal shirt against Douglas Costa and Thiago. Did he go into his shell, hide or even let it trouble him? No, instead he came out and posted stats of 100 percent passing accuracy and 100 percent of take ons completed before springing in the last minute to intercept a Bayern ball and set up Ozil for the second goal. Is it any wonder the German was impressed with his team mates and their attitude?