Stat Attack – One result changes nothing, stats show Arsenal do need Mesut Ozil by Russell Cane
Arsenal win more, lose less, score more, concede less and pick up more points when Mesut Ozil plays, stats from Oulala.com reveal.
However that doesn't back up former Arsenal defender, Martin Keown's claim that Arsenal don't need Mesut Ozil. Well Martin, we have the stats that prove the Gunners do need Ozil. Our data clearly shows that Arsenal are far better in every department when he plays.
Oulala.com went back to the 2013/14 season to analyse how Arsenal have fared with and without Ozil in the Premier League since he arrived in England and the results are conclusive, the Gunners are much better when he plays.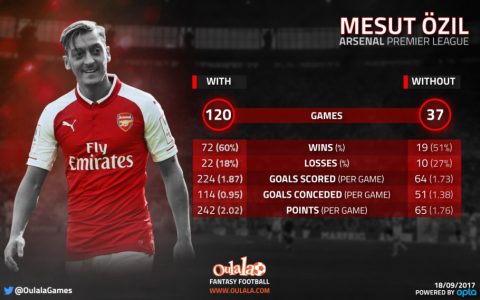 In the 120 league games that Ozil has featured, Arsenal have won 72 (60%). While in the 37 he has missed, they have won 19 with their win rate dropping by nine per cent (51%).
Arsenal also lose less games when Ozil plays. Twenty-two defeats (18%) from his 120 league appearances compared to 10 defeats (27%) in the 37 matches he has missed.
At both ends of the pitch, Arsenal improve with the 28-year-old in the side. They score more goals with him (1.87 per game) than without him (1.74). They also concede fewer, an average of 0.95 per game when he plays to 1.38 when he doesn't.
Overall, the Gunners register more points per game (2.02) when Ozil features, to 1.76 when he doesn't.
Do we really still believe that Arsenal are better without Mesut Ozil?
Russell Cane