In yet another never-ending Arsenal transfer saga we are left with just one day left to confirm that the brilliant young Nigerian Kelechi Nwakali, along with his friend and team-mate Samuel Chukwueze, are definitely going to become the latest additions to the star studded Arsenal academy.
The 17 year-old was the star of the show as he led Nigeria to victory in the U17 World Cup this summer, and the Arsenal scouts have pushed for Wenger to bring him to the Emirates. As usual it takes the Gunners longer than anyone else to get a work permit, and a couple of days ago Le Prof admitted that it may be difficult to get it completed in this window. "The talks are progressing well," Wenger said. "Do I expect them to be done this month? Yes. Of course, there are work permit issues and medical issues, because they have to take medicals. But it is progressing well.
"We identified Nwakali as the player of the tournament, basically, and as a top player. We will see if we can manage to get it over the line during this transfer period. [If we can], we will do it. Chukwueze is [signing] as well."
Now we have proof that the deal is done, with a photo with Wenger and Ivan Gazidis alongside Nwakali and Chukwueze, and also our most famous Nigerian ex-player Kanu in the office at Arsenal.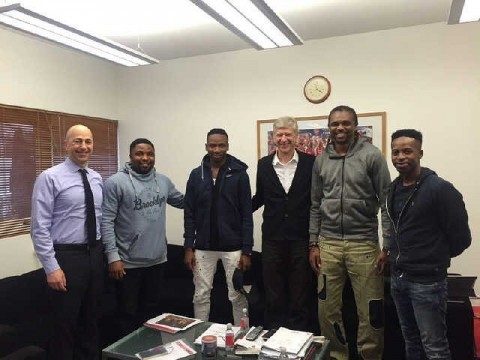 These photos are normally only taken on the signing of the contract, so we can now assume that all has gone to plan and he is definitely an Arsenal player from now on. Nwakali is THE most exciting youngster to come out of Nigeria in this generation, so I am really hopeful that he is going to be a big big star for us. He's probably already better than Danny Welbeck!
We previously gave you a video of Nwakali's early skills but today we have got all his goals and assists from the World Cup…..
Enjoy!