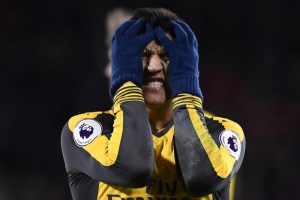 News went viral earlier that Alexis Sanchez had practically confirmed that he had no intention of remaining at Arsenal beyond the summer, after a supposed dressing room bust up left him being granted special leave away from the club.
The rumours broke that the Chilean had a 'bust up' with his fellow teammates in the aftermath of Arsenal's mauling by Bayern Munich on Wednesday night and that he had become so disgruntled, that the club granted him leave to travel away from the club. It was suggested that he had travelled to Italy, a country in which he spent the early stages of his career in, before being told he would report for training the next day.
Arsene Wenger has denied such rumours this morning however, stating that there was no 'bust up' as such and that he hadn't been granted special leave to travel to Italy.
Instead it is now being reported that Alexis flew to Barcelona on his day off from training, in order to attend a Spanish court. The court case is in relation to the allegations that Alexis defrauded tax earnings from Spanish authorities, during his time with Barcelona. Wenger said:
"He has a court case in Barcelona. He will be back in training tomorrow."
In regards to the supposed bust up, Wenger said: "No. Not at all. Everybody was deeply disappointed but there was no incident in the dressing room."
Although his words may seem straight to the point on paper, in the press release he made a significant pause between his initial words and the subsequent reason he gave. Wenger's excuse come across as less than convincing as a result.
Rumours of a bust up in the dressing room may be a tad far fetched or exaggerated, but I do not doubt that the atmosphere was argumentative and with the passion Alexis shows, I wouldn't be surprised if the Chilean had become very frustrated with his teammates, would you?
Whether this latest incident plays any thought into his plans come the end of the season, we will have to wait and see. However at this current moment in time, from a professional's point of view, you can't blame Alexis for having thoughts about not staying at Arsenal. From what we have seen of Alexis' passion at the end of losing games, I would say it was more than likely he DID let off steam after the game. What do you think?
By AH