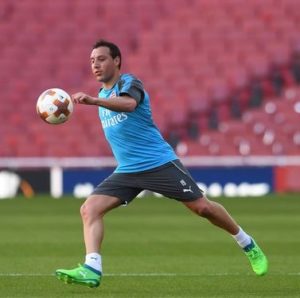 Our little Spanish maestro Santi Cazorla was seen on the Emirates pitch before Arsenal's Europa League game against Atletico Madrid last week, and he looked fit and well as he warmed up. Obviously Santi will not be playing a full 90 minutes for a long time yet and it is extremely unlikely that the Gunners will be renewing his contract ahead of next season no matter how fit he thinks he is at the moment.
Santi himself is aware there is lots of work to do to reach peak fitness, and at "I've still got some way to go," Cazorla said. "Because after being sidelined for 18 months, everything has to be done in its own time.
"But the sensations I have keep getting better and I'm feeling optimist about the future.
"The objective is to play some part with the team before the season ends, but we have to take things carefully."
"After being out for so long it will take a while to get back into form, it's a real struggle, but when you have been out like I have, you also notice pains elsewhere – apart from what I've had with my tendon.
"But all of that must mean that I am doing things right, and I hope to be back as soon as possible."
The gunners are lining up a spectacular farewell to Wenger in his last game against Burnley next week, and I am predicting that Wenger will include Cazorla in that by putting him on for the last couple of minutes of the game to give Arsenal fans the the opportunity to give a last ovation to the 33 year-old who has been one of wenger's stand out players in his final years at the club. I am sure Cazorla will get an even warmer send off than Wenger himself!
Darren N