The Curious case of Cesc Fabregas by Sam P
We all know that Cesc Fabregas left us under a cloud to go and rejoin his boyhood club Barcelona, but he has rarely been considered a 'traitor' like so many other stars that we won't mention here.
But Cesc's time at Barcelona didn't work out to his liking, and the subsequent birth of his child in London perhaps made him realise that your 'home is where your heart is' rather than your birthplace. So he was sold by Barca, and went and joined our London rivals Chelsea although Arsenal were given first refusal. Wenger said that we didn't need him as he had already splashed all his cash on Mesut Ozil, so Captain Fab instead went to our London rivals, where he is now yet again out of favour since the departure of Jose Mourino.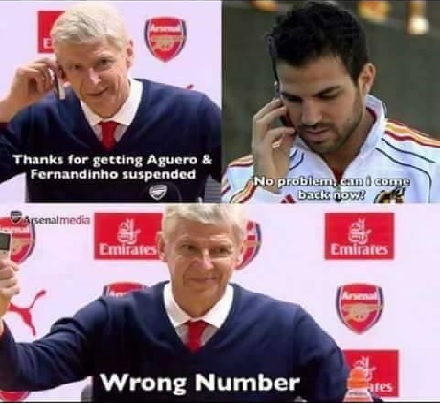 Last week was Fab's first start of the season for Chelsea and that was only because of an injury to Nemanja Matic, and he was put back on the bench for yesterday's game against West Brom. There have been rumours that he is unhappy and is looking for a way out of Stamford Bridge.
This all happened just as we found out that Santi Cazorla needed another operation on his Achilles, a problem that kept him out of the side for over four months last season, and looks to be doing the same again in this campaign. When you also consider that the Little Spaniard is hardly a spring chicken any more, we will need to replace him soon anyway, but do we have anyone with the skill of Fabregas to take his place? And I am nearly certain that he will want to stay in London.
So who would have Fabregas back? Or more importantly, who thinks Wenger would have him back now he's grown up a bit?
Hope you enjoyed the funny pic!
Sam