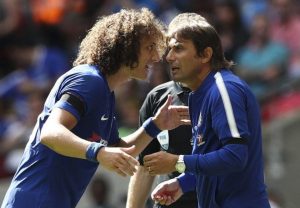 It is a fact that Arsenal are desperately in need of a top class centre-back with Per Mertesacker retiring this summer, and Laurent Koscielny, Mathieu Debuchy and Nacho Monreal also getting on in years, and The Sun is suggesting that Arsene Wenger is lining up a shock bid for the Chelsea defender David Luiz in January.
There is no doubt that the Brazilian is a very experienced and accomplished player but the fact is that he is 30 himself and has been out injured since October with a knee injury. I can understand that he might want to leave Stamford Bridge after a very public falling out with his manager Antonio Conte but would he really consider a move across London to one of the Blues biggest rivals?
It is also true that Chelsea have found a great replacement for Luiz in the form of the 20 year-old Andreas Christensen, who has received rave reviews since becoming a regular in the Chelsea first team. Conte may not even have a place for Luiz in the starting line up when he returns to the squad, which is expected to be early in January, and that alone may encourage the centre-back to look elsewhere.
We know Wenger thinks that keepers and defenders can have longer careers than other positions, but is Luiz really the answer to our defensive problems?
Admin