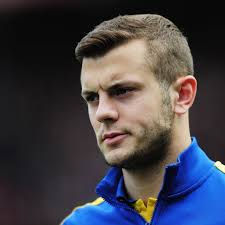 Jack Wilshere is waiting for Arsene Wenger to approach him about whether he will be planning to extend his Arsenal contract or not, and it seems to be very likely to happen soon considering that Le Prof seemed to hint that Jack could be the replacement for Mesut Ozil next season. "In my head, he's more a little bit higher up [the field]," Wenger said recently. "I see him more a player who can affect the game in the final third than a player who is a box-to-box player.
"He's a little bit in conflict in this position with Ozil and Sanchez. I believe he can as well play in midfield in a 4-2-3-1, he can play midfield in a 4-3-3. In the system we play, I see him a bit more advanced."
The boss also said that the contract talks with Wilshere should start (and finish) next month, so his future is decided between them before the next transfer window. "That [will] be decided in December," Wenger admitted. "I wanted to give him six months not to think about that and see where we go. He was determined and ready to be in the dark at the start and work hard.
"Now he feels as well that he has found that little bit of sharpness that is decided in the first two yards."
He added, "You always think even if he comes on he can give you a little trick or a little dribble. Jack has a quality that is very difficult to get together.
"He can dribble and he can as well give the final ball. You don't find that a lot in the same player."
That certainly sounds like Wenger is keen for the Englishman to stay at the Emirates for the forseeable future, but according to the ex-Gunner Paul Merson, it would be in Jack's interest to go and play in a different League altogether. "The way he plays, I think going abroad probably suits him and his game, otherwise he is going to go to a relegation-battling team, and that is not his game." Merson said.
"He needs to get on the ball and play football and be in a team that really are going to have a lot more of the ball than not. So probably abroad to an AC Milan or somewhere like that."
So is our Jack good enough to replace our departing German next season, or even Alexis? Or should he just accept he isn't tough enough for the Premier League and move abroad?
Read More…...Crystal Palace deny any interest in getting Jack Wilshere
Admin