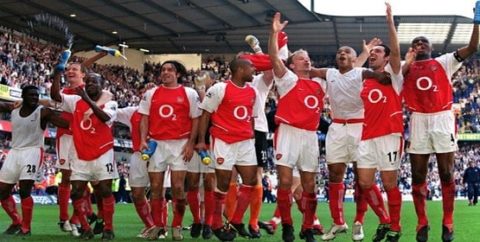 It's ironic that Edu should be named our new Director of Football as part of the reason he left us in in 2005 was that he was feeling under appreciated, with Arsene Wenger taking too long in offering him a new contract. Now the Brazilian returns in one of the most powerful positions at the club. He's done a similar role at the at Corinthians, the Iran National team and his own country. With Pires and Ljungberg already coaching for us, it can only be positive to have proper Arsenal men behind the scenes. Out of all our 'Invincibles' though, Edu is the first to return in such a crucial role.
So what has his ex-team-mates been up to?
Jens Lehman
The big German was largely responsible for 2005 FA Cup Final win, which was for 9 years our only trophy. He arrived as our number two but was never shy in pointing out he was better than Almunia (he was right). He became the oldest player in our history to play in Prem when injuries meant he was offered a new short deal (we won at Blackpool). Arsene Wenger took too long in trusting ex-employees to come work with him. His presence would have helped the mentality of the group. He retuned as coach for Wenger's last season, but when the Frenchmen left, he followed, taking a coaching job back in Germany.
Ashley Cole
One of two untouchables still playing, although now considering a coaching role with Frank Lampard. The new Chelsea manager was impressed with his ex-teammate's professionalism and influence at Derby.
Patrick Vieira
Our ex captain was believed to be offended not to be considered as Arsene Wenger's replacement while other ex gooners were, like Arteta and Henry. He was doing his managerial apprenticeship at Man City, who used their American franchise to groom him as Pep Guardiola's successor. He could have stayed safe and remained under that set up, but returned to France to take charge of Nice who finished 7th in Ligue 1 under him last season.
Martin Keown
I have always argued Mr Wenger should have given our famous back 5 coaching roles the moment they retired. Keown was invited to work with our defence in 2006 and despite a makeshift back 4 setting a record for how long without conceding a goal, on route to CL Final, this didn't become a full time role. He has become one of the most respected pundits out of the Invincibles, working between BT and the BBC.
Robert Pires
One of the first ex-players Arsene Wenger trusted to come back and coach with us. This mended the relationship between the two, with the player unhappy how his final game as a Gunner ended. In front of his friends and family, the midfielder felt not trusted when he was taken off early in the Champions League Final, hosted in his country. In reality we had to play against Barcelona for an hour with ten men, so it was logical to sacrifice an offensive talent.
Freddie Ljungberg
The Swede is slowly working his way up the club, having experience with the under 15, under 23 and now the senior squad under his resumé. Swapping roles with Steve Bould could be based on his knowledge and relationships with the youngsters at the club, at a time when Mr Kroenke doesn't want to spend money. He has positioned himself as the most likely ex gunner to replace Emery?
Jose Antonio Reyes
The only Invincible no longer with us. He returned to Spain where he added 3 Europa League, Super Cup, La Liga and Copa Del Rey to his Premiership and FA Cup he won with us. Passed away 1-6-19 after a car accident. He was only 35.
Dennis Bergkamp
Like many Ajax stars, he returned to his former club to work with the next generation. This was despite turning down a coaching offer from us, insisting he wasn't interested in working in football after retirement. After 6 years at Ajax was sacked by, ironically, ex team-mate Marc Overmars. He could be future Arsenal boss but what about his fear of flying? Now helps out at Almere City for free of charge. His son is on the books of the Lower League Dutch side.
Sylvain Wiltord
He was one of the few Invincibles after retirement not to get involved in coaching. He went down the Reality TV route, taking part in a TV series Dropped which would never air. Two helicopters crashed into one another, claiming the lives of 3 contestants, two pilots and 5 members of the film crew.
Luckily the striker had been eliminated from the contest the day before.
Lauren
Given his stance as an Invincible, combined with him winning the Cup of Nation's with Cameroon, the full back was the natural choice to be Arsenal's Africa Ambassador. Essentially, he acts as the club's representative at events/clinics, not just in his home continent but around the world.
Thierry Henry
As the face of the Renault Clio advert and Sky Sports pundit, the Frenchmen didn't need the money. He is one of the most vocal ex-gooner s about returning as manager one day. He did work with our under 18 squad but it's believed Arsene Wenger didn't like him being on TV criticising the club he was employed by. Although all parties played down a rift, he chose the Sky gig over working full time at the Emirates. After being assistant coach with the Belgium national, he only lasted 3 months at Monaco with the club in 19th place in Ligue 1, with just 4 wins out of 20. He has had sympathy given the French sides problems off the pitch, so could still get a decent job one day.
Ray Parlour
He now works in the media. Sometimes with the BBC and BT but unfortunately mostly with Talk Sport. The sooner he gets away from that radio station, the better pundit he will become
Pascal Cygan
It might not surprise gooners that one of the less celebrated members of our unbeaten season hasn't been snapped up for his footballing brain! He did feature for Arsenal's 'Legends' side against Real Madrid last year, and he played well to be fair..
Gilberto Silva
The Brazilian never got enough credit for stepping up his leadership qualities and helping the transition fromthe Invincibles to a younger squad. Probably came the closest to identifying with Edu as he had same role with Panathinaikos. Anyone who knows about Greek Football will know that's a hectic job. So, don't be surprised if he too returns to the Emirates. He has done lots of charity work, the Patron of Street League. Oh, and he's got a giant anteater at London zoo which he adopted.
Gael Clichy
One of two Invincibles still playing. The youngest Prem winner in our history currently plays in Turkey.
Sol Campbell
He is very outspoken and has suggested that if he were white, he would have found it easier to break into club management, having had to go all the way to Trinidad and Tobago to get a chance as an assistant boss. He claims in his book the same reason was why he didn't captain England more. He finally got his opportunity at Macclesfield, keeping them up on final day of season. He is the only Invincible managing in the UK.
Kanu
He works for many charities, including the Kanu Heart Foundation which had helped raise money for over 520 heart operations. He is alsom a UNICEF goodwill ambassador and is the owner of Kanu TV, a streaming service to bring more sport to the eyes of those who live in Africa. We did a full profile here.
Kolo Touré
He benefited from working with Brendan Rodgers at Liverpool. The manager was so impressed by the defender's leadership qualities he took him with him to Celtic, where the Ivorian went undefeated for a season yet again! Meeting Rodgers has launched his coaching career and he is now his number two at Leicester.
Jeremy Aliadiere
I wrote in previous article how, after serious injury, Arsene Wenger used his contacts to get him signed for Lille. It's that father/son relationship which got him employed with our Arsenal Player service. This might have been based on him being very open about his battle with mental health. If him talking about depression helps one person that's a great contribution.
So, 20 players qualified for a medal in 2004 and it's nice to see the majority are still within the game.
2 still play
2 are managers
1 was a manager
1 went into reality TV
2 work for BBC/BT
9 are doing/have done coaching
3 are part of the current family (let's increase that number)
Dan Smith