From the looks of the Arsenal players in their training session at London Colney yesterday, you would have thought it was the Gunners that were 3-1 up in the Champions League double header with Monaco, but unfortunately it is the other way around.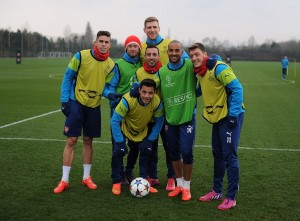 Maybe having the pressure off, with not many people in the football world giving us much chance against the miserly Monaco defence, is keeping the players relaxed and hopeful rather than tense and nervous.
Or maybe it is like Mesut Ozil said in a report on the Arsenal website. The tricky and talented German international was speaking about how belief affects professional footballers and clubs and how that belief makes everything seem more positive.
Arsenal have put to bed a lot of the doubts about our big game credentials this season, breaking the Old Trafford hoodoo and winning at Man City as well. We have ended the trophy drought and have a great chance of defending it and lifting the famous trophy for a record 12th time.
And as unlikely as progression to the Champions League quarters might be, the Gunners are still in with a chance. Ozil also spoke about tonight´s match and he certainly seems confident in our ability to get revenge on the French Ligue 1 club.
Ozil said, "It's very important to score early, but we will remain patient. We want to fight and battle from the first minute until the last.
"This is a match that we are determined to win. We have to score three goals and our aim is to do just that while remaining tight in defence.
"If we play as we are capable of doing in Monaco, I still believe that we have a real chance to progress.
"We want to disrupt their rhythm and try to score as early as possible. It's going to be difficult to score three times because they have defended well in the tournament so far, but if you look at our past matches and the way we played against Manchester United last week, I think there's a chance we can still progress."
"We have to believe in ourselves. When you believe in yourselves, a positive energy grows that you can achieve your aims. In football, things that may look unlikely can happen.
"I know that if we believe in ourselves and utilise our potential, we can still go through."
So have Arsenal really got the feelgood factor back? Is that why the players were all grinning like Cheshire cats yesterday?