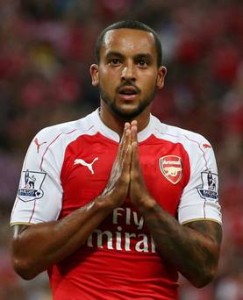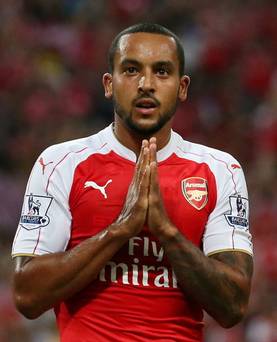 Arsenal fans have become very frustrated with Theo Walcott's inconsistencies this season, but manager Arsene Wenger feels very differently. The French boss has moved to rule out a possible exit for the under-fire forward, who joined the club from Southampton back in 2006.
Walcott started the campaign very well, providing Giroud with stiff competition for the sole striker role, but following an injury, has struggled to continue his early form. Our club's overall form has also dropped in recent months, which has enhanced the pressure on him, but he is not the only player to come under it of late.
Other than the returning Danny Welbeck, the majority of Arsenal's reliable goalscorers have been lacklustre, resulting in a series of unsatisfactory results, but Arsene Wenger makes it cleat that Theo is still one of his Fluffy Favourites, along with Ramsey, the Ox and others, and is remaining positive about Walcott's input within the team, for now and in the future.
Le Prof said on Arsenal.com: "I like that we live in a society where people always want new faces and new names.
"But we forget sometimes the loyalty, cohesion and the long-term phase that is needed in a player to be successful at the club. You need players through the generations and I'm very pleased with him.
"He's been here for 10 years, that shows as well that he loves Arsenal and I'm convinced he will give us much more in the next five years than the last five.
"Because he is a player who is always moving forward and trying to do better. He has a very positive attitude."
The Frenchman added: "Theo's movement off the ball is great, so he depends a lot on the service he gets.
"He has improved his team attitude and tactical discipline a lot. After that it depends a lot on if we dominate the game and the quality of the balls we get. He is very important in the way he goes behind the defenders.
"That is a quality you don't find often anymore. It gives us something that is very important in our offensive game.
"This season I feel he has been very important to us and shown he has developed well. He is very intelligent and very motivated as well."
I am one of the few remaining fans of Theo, and of Giroud for that fact, and I'm more than aware of the fact that form is only temporary, so I for one am happy with Wenger's recent statement.
How many of you Arsenal fans are eager to see the back of Walcott? Or even Giroud and Walcott for that fact?