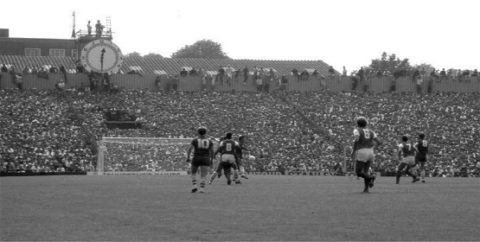 "Sorry mum!" by Snowden
Hi Lord Jon and all the JustArsenal family…
Again, thanks for your compliments but I am not a writer. I just wrote about myself that's all.
I don't remember much about my first Arsenal game. The game itself that is. My memory insists that the away team were in the blue we associate with Chelski, but it could have been Neverton. (editor please do not edit 'Neverton'. Thank you.)
I went to my first Arsenal game armed only with the knowledge of going to the Orient. Getting to the O's and getting home took less than an hour each way so being home by 6 was possible. My parents wouldn't have known that their little wanderer was off on his wandering again.
I now know it was the Clock End my feet found. I didn't want to be pushed down the steps to the front where all the other kids were and separated from the pitch by a wall. My head only just got above the wall. The supporter side being lower than the pitch. Seeing the game and collecting a memory or two wasn't going to happen.
When the game was over it seemed to me to take ages to follow behind the adults as they stepped up the incline to the top and then back down and eventually into the street.
I have this memory of all the people heading in the direction of the 236 bus and being horrified as I thinking I am never going to be home before 'slipper time'. (Editor please don't edit that. It is what I meant it not a typo as 'forward Arsenal was not a typo. That was a reference to Bernard Joy's book 'Forward Arsenal'. I have written 'slipper time' and that is what I mean – thank you)
I think we lost the game. I think that, because I don't recall the sensations, the happiness and sense of elite of that the big air balloon that would swell over Highbury after a win and follow us home.
I don't recall my rear end having a visit from 'the slipper' for being late on arriving home, but doubtless I had some explaining to do. I know that I was allowed out for an extra half hour if was going to Arsenal. I wasn't allowed to go to midweek games.
Despite everything, I was Arsenal hooked.
As to the cloud of 'slipper time' powering my thinking. This was of my own doing, only I wasn't to realise this/understand this at the time.
I was 6 and it was summer, my mum took me and a friend's daughter of about the same age as me out for the day to Hyde Park. Mum dozing the heat of the sun (editor: please don't edit the 'dozing the heat of the sun' it is intentional – not a typo.) and seeing an ice cream man I Ieft her in favour of the ice cream. Needless to say, with no money I didn't get an ice cream. I arrived back at where I thought I had left my mum and found myself in the state of no ice cream – no money – no mummy. With nothing else to do I went home.
It seems I arrived home about 3 hours later. You can imagine the scenario and reception I received.
When eventually I was allowed to go short distances from home by myself, I was always given a time to be home by, and a meeting with 'slipper time' if I arrived home after the agreed time. Had I known what to expect when going to Arsenal I am sure I would have asked for more time and I think it would have been given. It was parental concern that I had to learn to respect and of course I now understand. Sorry Mum and Dad.
Snowden.