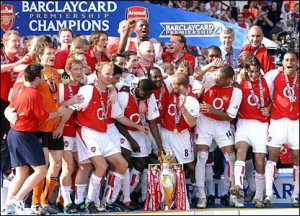 Look guys, I am not saying that Arsenal do not want to challenge for, and hopefully win, the Premier League title this season. That would be daft and completely contrary to what Arsene Wenger has freely admitted in recent years. The Champions League, don't get me wrong, would be super sweet and even more so after Chelsea jammed their way to it a few years ago, but the one we really want and need is the EPL trophy.
So why am I saying in the title of this post that we do not want to be challengers? Simple really, because in my opinion the two biggest reasons for Arsenal not having won it since the amazing invincibles season of 2004 is our ever present injury crisis and the pressure of expectation and what it does to us.
How many times have we seen Arsenal freeze in the headlights when in a good position? I am beginning to think that a late run is the only way we will win the EPL title as every time we get on top we manage to blow it. Thankfully for now the football media seem to be writing us off and I think we are going on a run. but if that does happen and people start to talk about Arsenal as champions again, will that see another collapse?
D.N.