Stat Attack by Russell Cane
Following Monday's swap deal between Arsenal and Manchester United which saw Alexis Sanchez and Henrikh Mkhitaryan switch sides, fantasy football managers are now faced with a tough decision… who do I bring in?
The January transfer window is the perfect opportunity for fantasy football gaffers to freshen up their squads and with just 2.8% of managers owning Alexis Sanchez and only 5.9% with Henrikh Mikhitaryan in their sides, early moves to two bangwagons with heaps of potential have presented themselves.
With such low ownership figures, the number of managers drafting in Sanchez and Mkhitaryan is likely to rise fast, but who should you be drafting into your fantasy football squad to gain an advantage?
At daily fantasy football game Oulala.com, we have taken a look at how Sanchez and Mkhitaryan have ranked in eight key areas when compared to all 413 players to have appeared in the Premier League this season, to assess whether their strengths and weaknesses make them attractive fantasy football picks.
Alexis Sanchez ranks in the top 20 in four (key passes, shots, goals and dribbles) of the eight criteria analysed. The 29-year-old also ranks well for assists, passes and crosses. The one area Sanchez will be hoping to improve on is his pass completion, ranking just inside the bottom half of all players.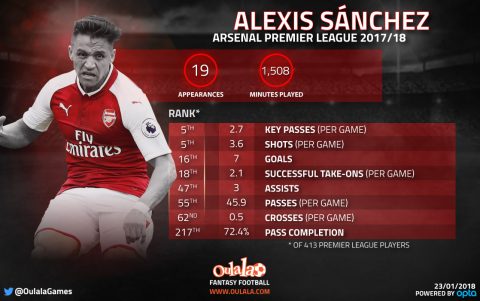 In contrast, Henrikh Mkhitaryan's stats for Manchester United have been far from spectacular. There's no question regarding the 29-year-old's creativity; ranking well for key passes, assists and crosses. However, in the remaining five criteria, Mkhitaryan will need to improve massively if he's to warrant a fantasy football call-up. His performance levels for pass completion, dribbling, shots, passes and goals all appear a cause for concern.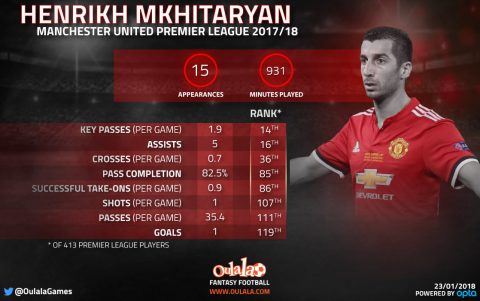 While Alexis Sanchez has proven himself in the Premier League and has the that stats to back it up, Henrikh Mkhitaryan has not. While, when taking their ownership numbers into consideration, bringing in Sanchez early doors appears a far more profitable risk vs. reward strategy than opting for Mkhitaryan who, after 18 months, still remains a wait and see.