Stat Attack by Russell Cane
Ahead of Arsenal's trip to Chelsea this weekend, our friends at Oulala.com compared how both new strikers, Alvaro Morata and Alexandre Lacazette, have begun life in the Premier League.
Morata and Lacazette are now four games into their Premier League careers as Chelsea and Arsenal come head-to-head at Stamford Bridge on Sunday.
The strikers arrived in the Premier League as record transfers for their clubs in the summer as Morata joined Chelsea from Real Madrid for £65 million, while Lacazette moved from Lyon to Arsenal for £52 million.
With the pair set to face each other this weekend, we have taken a look at how both strikers have started in the Premier League for their new sides.
Obviously these figures will change as the season unfolds, but as of now Morata has played seven more league minutes than Lacazette and he has been far more productive, registering three goals and two assists compared to the Frenchman's two strikes.
This has led to the Spaniard being directly involved in a goal or an assist, on average, every 55.6 minutes. Lacazette has taken an average of 135.5 minutes to do the same.
Morata's underlying stats also dominate Lacazette's on a per game basis, registering more key passes (1.5 to 1.3), winning more aerial duels (1.5 to 0.8) and recording more shots (3.5 to 1.5).
However Lacazette has attempted (and successfully completed) more dribbles (1 to 0) per match.
A lack of supply from his teammates could be highlighted by Lacazette's fewer shots, although he has been more clinical than Morata, converting 30 per cent of his chances compared to 21 per cent from the Chelsea striker.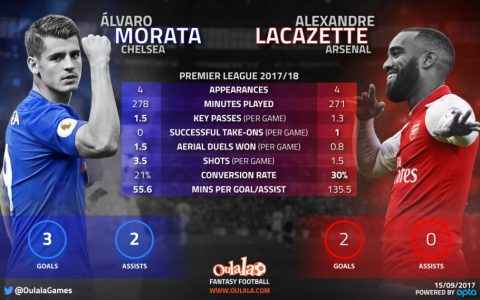 With Chelsea and Arsenal spending well over £100 million on the forwards, Morata and Lacazette will be expected to provide the ammunition in what could be a goalfest, especially when you add Alexis returning to form for Arsenal and Hazard coming back for the Blues as well. Let's hope we are in for a treat and Lacazette improves his stats at the Bridge…
Russell Cane