Even though the Arsenal creative genius that is Mesut Ozil would not have played for Germany this week anyway, because their international friendly with Holland was called off after a suspicious package was found at the stadium in Hannover and there was a real focus on this sort of thing after the awful terrorist attacks in Paris, it must still have been better for him not to be involved at all.
It was not as if Ozil was showing any signs of being mentally or physically in the red; quite the opposite in gact as the play maker was covering more ground than most players in the Premier League and doing more with the ball than them as well, but we should still thank the Germany boss Joachim Low.
He was concerned about the amount of football our attacking midfielder had been playing and with no winter break in England was clearly trying to protect a player that could be key to their success next summer at Euro 2016. And the Gunners will now benefit from Low´s caution because Ozil has had a nice break without having to train with the Germany squad or fly from place to place.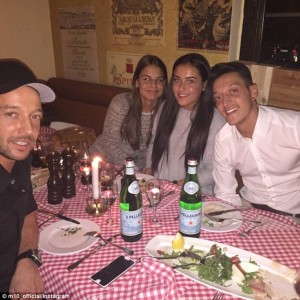 As you can see from this picture printed in the Daily Mail, Ozil has been making the most of his rest period but not by hitting the clubs but enjoying time with his 'familia'. He looks well rested and happy and hopefully his batteries will be fully charged and his left foot loaded with the sort of assist ammunition that has sent him rocketing to the top of Europe´s creative charts.
Do you think the Arsenal star will break the record and make it seven games in a row with an assist to his name?