There's still no sign of a statement from Arsenal following Granit Xhaka's shocking outburst towards fans after he was brought off against Crystal Palace. The Swiss FA have responded.
Mirror Football have revealed that Switzerland's FA have issued a statement to confirm that Granit Xhaka will remain as the national team's captain following his outburst towards Arsenal fans in his club's 2-2 draw against Crystal Palace on Sunday.
The 27-year-old looked furious with fans after he was booed whilst walking off the pitch. The midfielder angrily ripped off his Gunners shirt, whilst also telling fans to "f*** off".
Switzerland's FA have been in contact with the ace since the incident and have released the following statement:
"We are in contract with Granit. We appreciate the qualities and the importance he possess for the national team. As a result, his standing will not change,"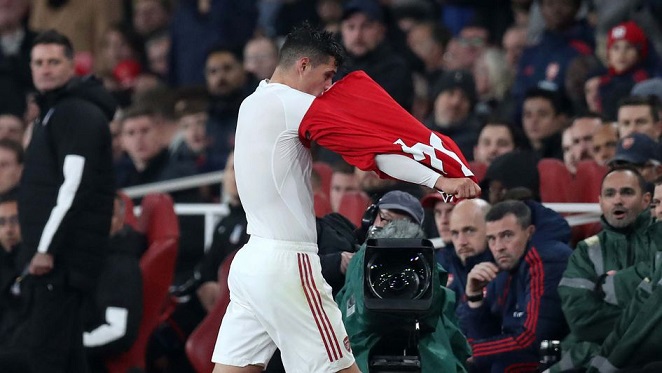 Xhaka's future at the Emirates is in serious doubt following the incident.
Given how much the star's reaction has taken the football world by storm, it wouldn't be a wise move for Unai Emery to involve the star in Arsenal's Carabao Cup clash with Liverpool tomorrow night.
Ex-Arsenal star Charlie Nicholas slammed Xhaka for his 'atrocious' actions.
This drama is the last thing that the Gunners need given the side's recent shaky form. At a time where results on the pitch are becoming crucial, off-the-pitch incidents are taking over.