At last we are finally getting to see Arsenal in action again, and our first opportunity to see Sead Kolasinac and Alexandre Lacazette in action for the Gunners. Arsenal fans may well be expecting an easy game against the Hyundai A-League side, but we have to remember that Sydney FC were actually the Champions and haven't lost at home in the League for over a year.
They did lose 3-0 in a friendly with Liverpool just after the end of last season, but as this is Arsenal's first warm up game we can't expect them to be as fit as Jurgen Klopp's side was in May.
Anyway, here is the first View From The Enemy that was originally published on A-League.com.au…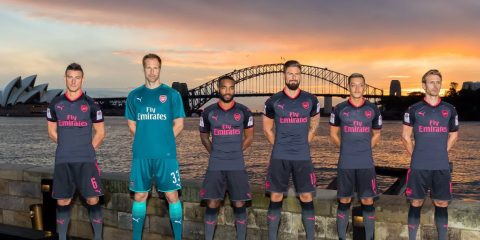 Sydney FC v Arsenal Preview
A near capacity crowd will be on hand in Sydney on Thursday night as Arsenal take on Hyundai A-League champions Sydney FC in the Premier League club's first visit down under in more than 40 years.
WHERE: ANZ Stadium, Sydney
SQUAD NEWS
*Wenger confirmed Arsenal's record-signing Alexandre Lacazette would feature during the match.
*Championship heroes Danny Vukovic, Filip Holosko, Bernie Ibini and Milos Dimitrijevic are no longer at the Sky Blues.
*Gunners stars Mesut Ozil, Aaron Ramsey, Olivier Giroud and Theo Walcott are in the squad, although Chilean superstar Alexis Sanchez didn't make the trip to Sydney.
WHAT THEY SAID
Sydney FC boss Graham Arnold:
"Arsenal is a club that a lot of football coaches in Australia would look at and admire the way they play. In a lot of ways we try to replicate what they do in the way they play the game.
"We know it will be a massive crowd and there will probably be more Arsenal fans than Sydney FC but it's for the good of the game in this country.
"We played Liverpool not that long ago and there was 80,000 people there. To get the clubs like Arsenal to come out and promote football in our country is big for us."
Arsenal manager Arsene Wenger
"I don't know a lot about them [Sydney FC] but I know they have been very successful. We don't have the privilege to watch Australian football in England.
"It will be good to have to try and adapt quickly to a team that we don't know and I believe that's part of pre-season as well.
"I'm sure we'll meet two teams of quality and two teams that will play with plenty of enthusiasm against us to show their level. It will be difficult games."
PREDICTION
Sydney FC 1-2 Arsenal
It's never easy to predict what's going to eventuate in what is a first pre-season hit-out for both teams. But it should be a wonderful occasion in what should be an entertaining clash in front of a huge and noisy crowd in Sydney's west.
How Arsenal fans can watch it live for free
This is the best bit. Arsenal are providing a live Matchday show from Sydney to watch the game, with commentary from the ex-Arsenal players Adrian Clarke and Nigel Winterburn. So get comfortable and sit back and watch the Lacazette show!
***My best XI from the Arsenal squad on tour – What's yours?***