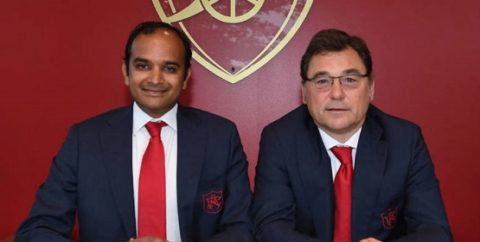 Raul Sanllehi: "The young players were very good (on the recent US tour), but this is like a long cook, you cannot rush it. It's great that they did well, but we need to protect them. But we're very pleased with them, not just their performance, but their attitude on the training ground."
RS: "The academy is very important, not just financially, because we cannot just buy all the talent. But also, because we want people in the dressing room who can teach what the badge is for and what Arsenal stands for. Why certain traditions are important.
This was important for me to hear.
When I think back to that famous picture of our British players extending their contracts, it wasn'tthat I thought they were world class players but at the very least could be our DNA
I'm tired of having foreign players who see us as nothing more than a stepping stone
If you promote from within, you're going to have a core group who know how big a deal the crest is.
You can't sign leaders; you build them from within. That's more likely going to come from our Under 23 squad
Vinai Venkatesham: "The commercial highlight of the tour was launching our partnership with Adidas in Denver and launching the new away kit in LA. These are our best-selling kits for many years, so that was a real highlight."
At least this shows we were not being told things we want to hear.
Maybe wait till the end of the transfer window before boasting about how much money we are making commercially.
From a PR perspective fans don't care about shirts being the best-selling until we see new faces wearing them.
I think we know as a business we are run very well, it's ambition on the pitch we want to see.
VV: "We know we are not where we want to be as a club. If we had finished 3rd and won the Europa League last season, we would be saying the same thing. We have to find a way to compete for the biggest trophies and we aren't doing that at the moment. There has been a huge amount of change at the club over the last 14 months in pretty much every single area.
Again, you can be a cynic if you want too and say this is just a case of being told what we want to hear but this is progress from Arsene Wenger comparing 4th as a trophy.
Of course, it would have been great had we won the Europa League, but it should be remembered we were promised a lot better than that when moving from Highbury.
As someone who assumed Stan Kroenke would think his transfer model was working had we qualified for the Champions League, it's nice to hear those he is putting in charge of the club acknowledge that we are currently failing
"We have moved from the traditional manager model to a model where we have a Head Coach. There have probably been more than 40 ins and outs on the football side in that time. Per Mertesacker is head of the academy, Freddie Ljungberg and Steve Bould have changed roles, Edu joined us a few days ago. So that's a big change with people that know this club.
"We've got a new commercial director, people director, Edu and Huss Fahmy have joined, Raul and I are in new roles. There is a new transition team in place on how we manage players from the U-23 team to the first team. So much of the change has been because we're not where we want or need to be and we need to get better and to improve. The results won't come straight away, it will take some time."
It was always going to be hard replacing Arsene Wenger as he was probably the last to have such high control in numerous positions of the club.
However, this was the closest anyone has come to admitting that many jobs were lost based on failure.
I don't want 'lots of changes' to be an excuse.
The bottom line is the current team have had months to (as an example) improve the defense.
Sometimes they talk like their doing us a favour when in fact they get paid thousands of pounds a week to scout the world for better option.
If we again failed based on our Centre backs not being improved, that's a sackable offence.
"We are very happy with the appointment of Edu, not just because of his proven knowledge of football, he has been very successful as a Technical Director at Corinthians and with the Brazilian national team. It wasn't just his knowledge, we needed him to fit at Arsenal and who better than an Invincible to do that?
"We first met when Brazil played Uruguay [at the Emirates last November]. We had a good conversation, but it was hard to have the conversation because every two minutes someone would come and interrupt to say hello. He knew everyone at Colney, so he was already part of the club. We started talking about the possibility of him joining and his face changed, his eyes lit up.
Edu: "It's always good to be back home and I feel really at home here. When I walk around and see photos and people and some of the staff who were still here when I was playing, I feel at home and I hope to continue like that. I missed being here and I still talk to many of the guys I played with. I know the job is not easy.
"I had been talking with Raul and Vinai about taking this job since about December and I am looking forward to do the best I can, like I did on the pitch. I closed a book when I stopped playing and I opened another one as a sporting director, so I want to write another chapter here. I have been following the squad and the team and their system.
I always felt Arsene Wenger left it too late allowing his ex-players to come back and support him behind the scenes.
On top of their new roles I think it can only help the squad to have an Edu or Ljungberg around the place, especially if you do lack leaders.
Imagine the week of a cup final and you have the experience around you of not just legends who can empathize with the pressure of playing for Arsenal but who succeeded
At this point, the Q & A from the floor starts.
A question from the floor about whether Arsenal plan to sign a centre-half for this season.
RS: "I cannot say a name because I wouldn't be doing my job. If I say a name, I walk out the door tonight and he's £10m more expensive. The transfer window is a moving target, I have been doing this for 16 years now and I know that some windows are harder than others. This is a particularly hard window. When I talk with other clubs, this is a common knowledge.
"There is a bit of stagnation in the market and you don't see the number of signings you normally see just yet. I don't know exactly how things will turn out, but I can assure you we are working every hour of every day. I think it's a bit like school, where you evaluate your grade at the end of the school year and not in the middle.
"What is most important is to talk with the coach, about how he is feeling about the team, what system he wants to play. He knows more than anyone, more than me, about what he wants. We're going to do our best and we will keep working, but I will not mention any names.
Remember they haven't just had this window to decide to buy a defender.
They have had months to put together shortlists and talk behind the scenes to see who was available.
If Gooners since Xmas could identify this was a weak area, then so should people whose job it is to make those type of decisions
A very long rambling question from the floor, which can be summed up as, "why have we only got £40m to spend on transfers?"
VV: "I don't recognize this £40m figure, I have read it a lot. That doesn't come from us, that doesn't come from the club. The numbers never come from us. We never ever, ever, ever talk about how much money we have to spend because that's the least helpful thing you can do. Raul's job is hard enough, if you go into a negotiation and everyone knows how much money you've got, it doesn't really help.
"It is true that our funds are more limited after three years in the Europa League, but the budget isn't £40m. We have the budget to make a difference, but as Raul says, this is a particularly tough window and we're in the middle of it. I sense and understand the frustration, but there is a huge amount of misinformation out there in the market.
The most refreshing answer I heard, one that gave more clarity then the previous regime showed.
Could be wishful thinking but along with Josh Kroenke's 'Be Excited line' you wouldn't be saying some of these things if you didn't believe that something big was about to happen?
A question about safe standing at the Emirates.
VV: "The government are going to consider the rules as to whether they will allow safe standing or not. I don't know how long that will take. Yes, we are in favor of safe standing, in principle. The Emirates wasn't built for safe standing because it was built prior to 2006, so implementing safe standing is quite complicated.
"You can only do safe standing in the lower tier and the lower tier here has a very shallow rake. So, there is a risk of a whole load of seat kills, because you have to take lots of seats out. So, what we're trying to work out now is what the impact would be on attendance if we took seats out and had safe standing. We're in favour in principle, but until we understand the impact on capacity, it's difficult for us to say we are definitely going to do it."
Not an issue that has ever concerned me as I feel if there was one accident/incident because of safe standing it's one too many.
Why change something that works and has made stadiums so much safer and I'm sorry atmosphere not an answer when you're talking about people's lives
A question about the club's short-termism over the last 10-15 years.
RS: "I get the frustration, really I do. If we keep saying we are terrible we won't get anywhere. The last fans' forum, the fourth or fifth time someone asked me why I left Barcelona to join Arsenal, I had to stop and say I have been congratulated all over the football world for coming here. I used to represent Barca at UEFA and the ECA, all the top clubs congratulated me for joining Arsenal.
"I am still very excited when I see what this club stands for, what it means, its dimensions. These facilities, this stadium. This stadium is fantastic and the training ground at Colney is outstanding. I look at our players, they are good players. They're very good players and they are getting into a system, but it's going to take them time.
"Please don't get me wrong, I cannot sleep when my team is not winning, I am not happy. Without that passion we cannot go anywhere, but please let's be objective and have a little bit of patience. This project over the last 14 months has seen incredible changes, if we expect results in just one season, it's impossible. But if we kill it now, we will have to start all over again. Last season we scored more goals, we fought for 3rd place until the final game, we got to a European final.
"We didn't do it, but it was an improvement. I hear lots of people talk here about supporting with their fathers and their grandfathers and that is great, without history, legends, statues, pictures, you don't have a club, you don't have Arsenal. There are clubs out there who would kill to have that. They are richer now and they are winning trophies, but they still don't have what we have here, so let's use it in positive but not the negative."
VV: "We totally get the frustration; we are not where we want to be. We know people want to see actions and not hear words, unfortunately, this is a Q & A so we can only give you words tonight. There has been a lot of change over the last 14 months and it's all pointed to getting back to where we need to be and we have a much better chance of doing that with our fans behind us.
"The ultimate objective is to get back to competing for the Premier League and the Champions League. The first step in that objective is getting back into the Champions League, that's our short-term objective, but it's not where we want to go long-term. We need to be realistic; we're probably not going to get from where we are to winning the Premier League next season, what we're trying to do first is get back into the Champions League, but that's not the ultimate objective
It's true, only so much you can do at a Q and A
Yet there's something more believable then the previous regime. I feel their passion and determination.
Like anything though, actions will speak louder than words
Dan Smith