There have been hundreds of posts and comments from pundits discussing who could become the next Arsenal manager if Arsene Wenger steps down at the end of the season. There have been 4-man shortlists, 6-man shortlists, Arsenal Board shortlists and some ex-players just giving their opinion on who they would like to take over next season, but who is the money actually going on from the punters?
Well here is the real factual odds that bookies are offering right now on Wenger's replacement (sorry, I mean 'The next Arsenal manager')….
Well first of all, the two hot favourites are Carlo Ancelotti, who certainly looks to be ready and waiting for the job to become available, and Joachim Loew, although I can't see the German leaving his national team until they fail to get past the quarter finals of any competition, and that seems unlikely!
So here is the full current betting (as of right now) from the Oddschecker website, who compares all the bookies….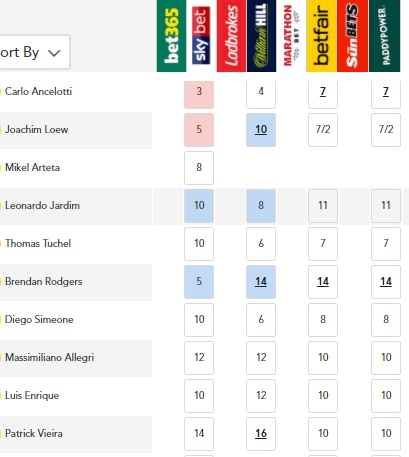 There are lots of interesting names in there, but to be honest if (and that is an enormous IF) Wenger leaves this summer (or gets sacked sooner), I can't really see any of them coming except for Ancelotti. May be worth a little bet at 7/1….
Who would you pick looking at those choices?
Admin