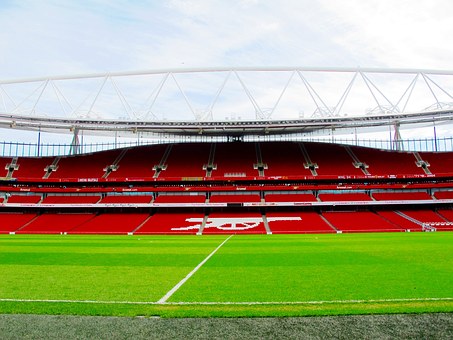 Photo by Nelson Ndongala on Unsplash
At this point, there would be absolutely no reason to introduce the richest man in Africa, Aliko Dangote, but unknown to most people he is actually a Gunners fan and he has previously indicated his desire to take over the club. In 2016 he went on the record stating that he actually was interested in acquiring Lady Nina Bracewell-Smith's 15.9 percent stake back in 2011. However, since then Stan Kroenke – current owner of the club, has grown his stake and is now the 100% owner after buying out all of the stakeholders. The final cost of the takeover is estimated at £1.029 billion which has turned out to be a good investment considering a 2020 KPMG report which valued the club at £2.073billion.
Tip – If you're planning to watch the Arsenal vs Watford game live (on the 6th of March) remember it's a late-game so make sure you check out the Aldi leaflet ahead of time and stock up in time to sit down and relax!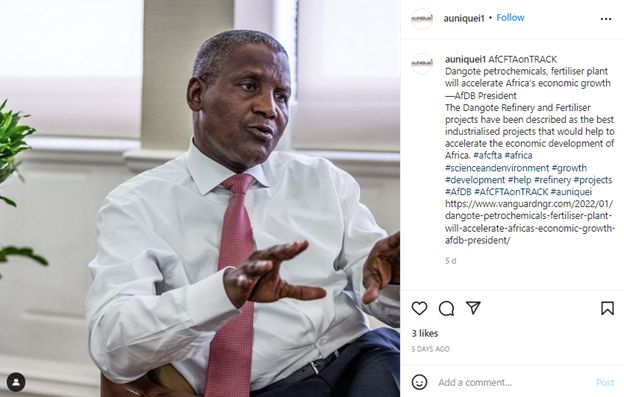 Image Courtesy of @dangotegroup on Instagram
Kroenke has previously denied the possibility of him selling and has even rejected 2 deep-pocket offers from Spotify's founder Daniel Ek with the 2nd offer being northwards of the 2 billion mark. Despite this, It might be time for Dangote to stand up and throw his hat into the ring. Here are a few reasons why we think now is the time to strike;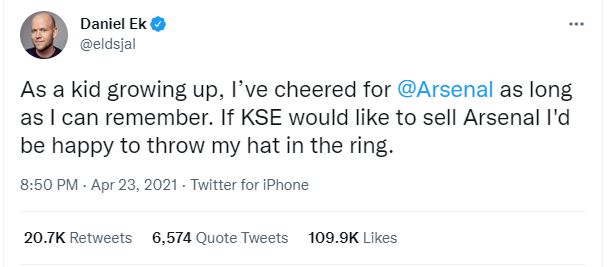 Image Courtesy of @eldsjal on Twitter
Perfect Timing
In earlier conversations, Dangote has indicated that he cannot make a move on the club as he was stretched thin with other projects set to expand his enterprise; he has since fulfilled most of the projects and is in a great position since his net worth has received a significant bump to 19.5 Billion, according to Bloomberg.
Club Management
Regardless of Kroenke's limited to no involvement in the daily running of the club, there are some areas that have caught us by surprise. Some keen-eyed reporters have played with the idea that this to be similar to Roland Duchatelet's, Charlton Athletic strategy – "keep running costs as minimal as possible and sell players for profit" – which might also be likened to his moving the Rams out of St Louis to California. The superleague scandal showed how riled up the fans had become towards the Kroenke's and their desire for new ownership of the club.
Expanding business profile
Buying into Arsenal is a good move to diversify his portfolio and reinvest in something he loves as he indicated that he would like to be able to make some changes as he does not plan to buy it and just continue with business as usual.
He has received mixed reactions from Nigerian football fans as some are for the move whilst others believe it would be better if he invested the funds into Nigeria's football clubs. In response, he said "The issue is that if I buy all the Nigerian clubs, the Nigerian flags will continue to remain here. But buying Arsenal will take the Nigerian flag worldwide. Just like whenever Abramovich is mentioned, the name of his country, Russia comes up. Everyone knows he's Russian," Besides that owning a club like Arsenal would surely expand Dangote's other business interests whilst increasing his growth capacity into all the markets the English Premier League penetrates. This is also a big reason why Kroenke bought Arsenal despite him having a variety of other teams like the Denver Nuggets in the NBA and the LA Rams in the NFL to name a few.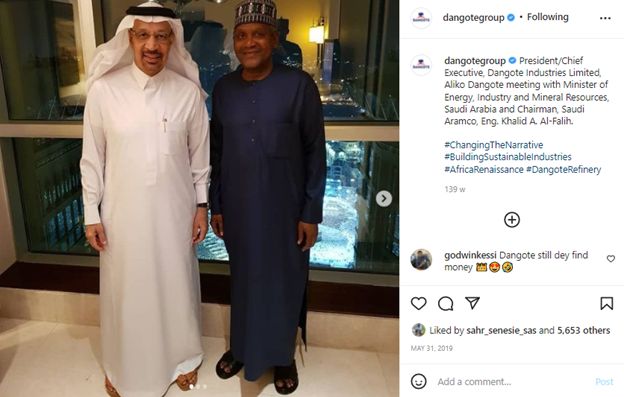 Image Courtesy of @dangotegroup on Instagram