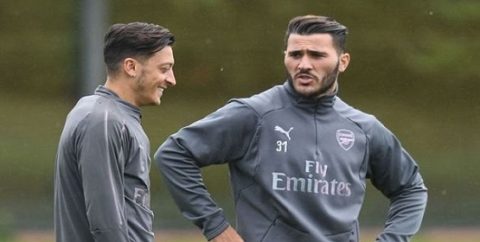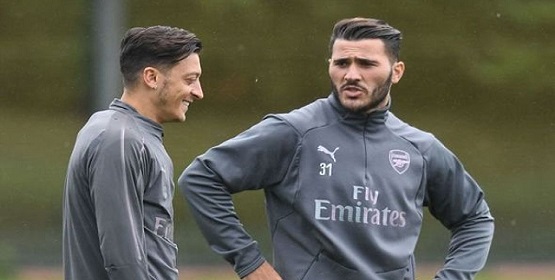 The Arsenal Fans That Want Ozil/Kolasinac Sold are a Disgrace by Dan Smith
Arsene Wenger said he had noticed disrespect from a section of fan base that he would never forgive, and essentially warned us to not to ruin the values we have been proud of for years.
I'm outraged on social media to read/listen that after missing one game we have supporters crying about how the Ozil/Kolasinac situation affects them! Not the two players, not their safety, not the welfare of their families. To clarify … Some are bothered that this might cost them 3 points…
Football is a beautiful game but it's just a game. I will never understand that in 2019 that adults need this explaining but here goes ….
No matter how much you love a sport, no matter the passion, nothing is more important than life. If police advise it's not safe for any individual not to be away from their homes, then that takes priority over the needs of Football. If that makes you angry, blame the cowards carrying out these crimes, question the media coverage, debate knife crime in London.
Yet after being unavailable for one match, some want Arsenal to put themselves first and sell because the two ' victims ' are no longer reliable. That's having won at Newcastle, imagine the reaction if we lose at Anfield and these two still can't be selected. One of these fans wanting us to sell these two is the same person who was disgusted by Koscielny 's welcome to Bordeaux video. Apparently, our ex captain should have shown more respect to the Arsenal 'family' yet look at his love/support for one of our own. It's embarrassing.
I worked with someone who had to miss work based on legal advice. Can you imagine suggesting she get sacked because it was an inconvenience to her co-workers? For a start it would be illegal.
I heard a suggestion Ozil should move because he should accept he is being targeted for being Turkish, maybe he would be tolerated elsewhere? Change Turkish to Black and how does that sound? What message does that send out? What does it say about our society?
Do you remember when players walked off in Russia and Italy due to racial abuse? How we could not understand their own fans booing, their stance because they only cared about the game being played.
Understand those being arrested outside Ozil's house or riding mopeds wielding knives are morons, not clever people, thugs who want to steal money and jewellery.
It would be really interesting if this was Auba or Lacca going through this instead, would we think the solution would be to sell them. Something tells me it wouldn't be…
It's funny Pepe can't start on Sunday as he wasn't fit enough, Tierney is out after a hernia operation. That's fine …….We are loyal to a Diaby, Rosicky, Wilshire, etc. for being plagued by injuries, but being carjacked, sent death threats, people outside your house threatening your family??? Well he earns 350,000 pound a week. he should get on with it …. please tell me how low a wage should be where you don't deserve that?
Then tell me if that was you and your family, how important your job would be to you?
Dan Smith