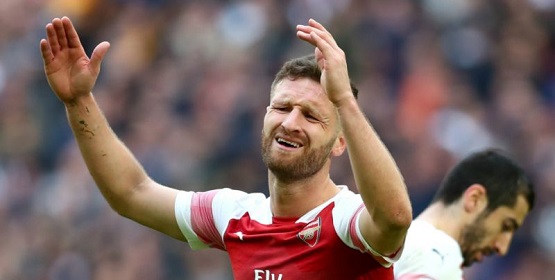 The majority of the Premiership voted for the transfer window to close before the competition started so their squads would not be disrupted. Yet Unai Emery hasn't ruled out selling more players with the majority of Europe still being able to buy. So, we might have to wait 'til September to get a better idea of what our options are.
Below are names linked with a possible departure within the next few weeks.
Mustafi
Wasn't even on the bench at Newcastle, although maybe Unai Emery thinks the boos will stop once the transfer window closes elsewhere. Unfortunately, jeering our own players (even when we are winning) has become common practice with a minority of our fan base, the same who preach loyalty from the likes of Koscielny. The German will be aware he has become a scapegoat and that it might benefit all parties for a fresh start. Arsenal were optimistic to think they get their money back on the defender and might be open to a loan deal, just to get his wages off the bill.
Ozil/Kolasinac
I have already written that these two only be sold for footballing reasons, not because their current personal situations are an inconvenience to some of our supporters. To be fair long before the carjacking their futures have been in doubt. I was very critical of Kolasinac's final ball in the Europa League Final, while if we have to play 5 at the back to accommodate to him, he's not a good enough left back at this level. Emery has already admitted there are some fixtures he doesn't tactically trust Ozil in, and long term you feel only a change of manager will see our number 10 at his best. Ozil and Kolasinac are best friends as are their wives (one of which has fled the country) so any decision they might make they might make together. It would be an embarrassment to England if they walked away over fears for their safety.
Elneny
Only started a couple of times in the Premiership last season and with the emergency of youth, has dropped further down their pecking order. He is someone you can trust to bring in and give 100 per cent, but has his limitations, which is why fans don't get on his back like Mustafi. If he stayed he might play in occasional cup ties but has no long term future with us.
Smith Rowe
We can't push all our youngsters into the first team at once, so, like Eddie, a loan would be purely for Smith Rowe's development. That was the plan last season, but injury ruined his time in Germany. A return there could be a possibility.
Mavropanos
It is now or never for the Greek defender. He impressed at Old Trafford in Arsene Wenger's final season, before a red at Leicester halted his progress. Injuries since then means it's hard to judge how talented he is, or how much Emery trusts him. Maybe he needs to do what Chambers did last year and go on loan for first team experience.
Monreal
When Tierney's fit Emery must decide who he wants as his second choice left back. Monreal is the better defender and is trusted to play in the middle, especially in a back three. I could imagine he is one of the few leaders we have in our dressing room. If the right offer arrived for him and his family, like a return to Spain, should we let him go?
Any other players you could see leaving?
Be kind in the comments…
Dan Smith