It does not really matter who I or other Arsenal fans think should be in Arsenal's starting XI to face Liverpool tonight, as Arsene Wenger will stick to his favourite line up for as long as possible until injuries or midweek games force his hand. There were no new injuries and no returning stars to affect his decisions today.
It would seem that Theo Walcott's wish to be centre-forward will have to wait longer after Olivier Giroud's opening goal against Crystal Palace last week. The changes the fans may want to make, like Per Mertesacker replaced by Gabriel, is not going to happen while the acting Captain is available to be on the pitch, and the return of Sanchez last weeks means that Oxlade-Chamberlain will again be on the bench.
So it is obvious to me that the team will be exactly the same as last week's, which also means Aaron Ramsey as a nominal winger as Wenger floods the central midfield as usual, with Cazorla, Ozil and Coquelin alongside him.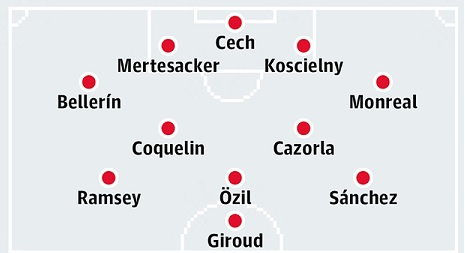 Wenger never likes being predictable, but his successful settled team for the last ten games of last season plus the lesson learned from Chelsea winning the title with mostly unchanged sides may have altered Wenger's thinking on his chopping and changing of past years.
So I am giving a confident prediction that we will have the same starting XI that we had against Palace. Who disagrees?