There has been much discussion about whether Arsenal's highest-paid player still has a job to do for the club in his preferred position of playmaker in the Number Ten role, so I have decided to dig in to the changes in his stats for the last six seasons at the club, so that everyone can decide for themselves if he is still an asset to the Gunners.
So first of all, let's look at the stats (gathered from Whoscored.com) from 2013-2016…..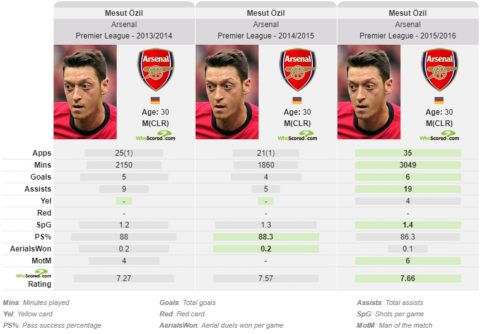 So, in total, he scored 15 goals and made 34 assists, and his average shots were 1.3 per game……
So now look at his figures for the last three seasons…..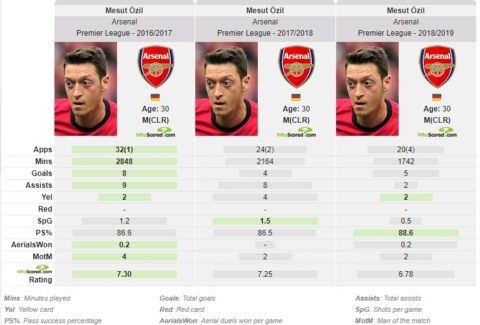 His goals went up to 17, but his assists dropped massively to 19 with the very worrying fact that he only gave TWO assists in the whole of the last season, and his shots per game dropped to one shot every two appearances. This is a massive drop in the stats.
The biggest argument was that Ozil only had mediocre forwards to provide chances to when we had Giroud and Welbeck leading the line, but this season he had two of the best strikers in the world in front of him and he couldn't provide one assist for either of them.
Now I know there are going to be fans that disagree with me and say that he contributes much more than the basic figures (eg running off the ball, racking up more kilometres per game) but what is the point if there is very little in the way of end results?
So let's see if people agree that the stats don't lie. Ozil has declined immensely over the years, and the last season he has been practically anonymous.
How much worse can they get if he stays for another two seasons until the end of his contract?
Darren N