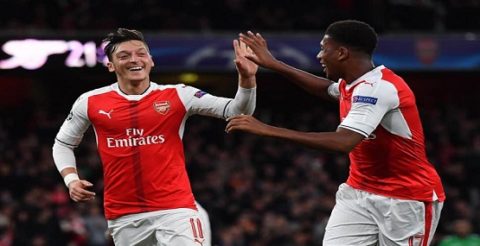 Some of the fairest criticisms of our players I read on here do come from Jon Fox and that is because he criticizes a player for who he is, with respect to the standard required at Arsenal. The Iwobi debate exists because some persons want to justify why Ozil should start every match. I believe if we had a good number of Armenians here, we would also have a strong debate on Mkhitaryan. This set of persons create reasons why Ozil, despite his poor performances, should always play and one of the reasons given is to downgrade any possible alternative to him in the team.
I defend Iwobi not because he is good enough for Arsenal first team, but I feel he needs some protection from some of Ozil's hardcore fans. Moreover, his performances and end products are not as poor as they want us to believe. I even find it difficult to call some comments criticism. How would you swear for a player? How could you say a young lad wouldn't make it in his chosen profession in a very insensitive way, you wouldn't like any of your children to be in such situation.
Putting Ozil and Iwobi on the same measuring scale is one of the most absurd comparison I have ever seen in sport. Compare Ozil with David Silva or Eriksen and you will know how poor he has become.
Differences between Ozil and Iwobi…
1. Ozil was a marquee signing (club record as at then) while Iwobi is an Academy product.
2. Ozil is 30-year-old while Iwobi is 23.
3. Ozil is our supposedly star player (1st choice playmaker) while Iwobi is a squad player (3rd choice playmaker).
4. Ozil is on £350k weekly wages while Iwobi is on £70k.
The difference is clear and the expectations for both players can't be the same.
However, if we must compare their games then we should be fair to both players. Iwobi is mostly criticized for lack of end product but how could he create and assist more than Ozil last season in a team where people make excuses for Ozil.
Games. Minutes. Big Chances created Goals. Assists.
Ozil. 20(4) 1742. 3. 5. 2
Iwobi. 22(13) 1976. 10. 3. 6
Mkhitaryan. 19(6) 1645. 10. 6. 4
That is the poor EPL stats of our three playmakers.
Football is certainly not only about stats, but some stats are important. One of those stats is chances created by a player especially for playmakers. Compare 10 chances created by Iwobi (3rd choice) to the 3 by Ozil (1st choice).
Ozil only defeats Iwobi on goals. Iwobi was joint 1st with Kola and Myki on big chances created and joint 2nd with Ramsey on assists. In the premier league the younger players above him in the big chances chart are the wonderful Maddison and Trent Arnold. Both Maddison and Arnold also top him on the assist chart with Rashford making same number as Iwobi. All three are highly rated but Iwobi's case is different because a certain section of our fans had already damaged his rating by some undue attacks.
In football most young players are celebrated for headless running around because end product comes with experience, except for some exceptional talents like Messi, Ronaldo, Mbappe etc. Salah, Mane, Sterling were once headless runners but now they are world class.
Also, one common thing about headless runners is how often they get the ball into dangerous positions but end up with a bad final ball. They easily blossom when they start getting those final balls right. It is often a risk letting them leave at an early stage of their career. Iwobi is one such player, but people easily forget how he got himself into those dangerous positions.
I'm not saying Iwobi is qualified to be a first team player but if our senior players especially the playmakers were playing as their counterparts in other teams, we would have appreciated Iwobi's effort as a squad player.
I laugh when some fans clamour that we should sell Iwobi this transfer window. Our management is not even ready to sign players better than Iwobi for our first team, how then can they get squad players as good as him. Some even wanted injury-prone Welbeck to stay over him which is also laughable. I wish he could leave; it may as well help his career because the pressure at the club is not good for any young player, especially with the attitude of our senior players.
All players should be criticized so Iwobi shouldn't be an exception but he should be criticized for the player he is (a headless runner, a busybody and a squad player) and not making him a victim of another player's situation.
Nifty