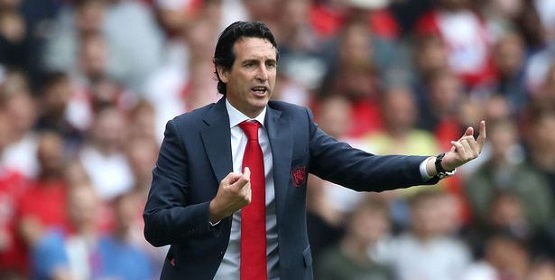 MY VIEW ON UNAI EMERY: by Alfie Culshaw
As we're in another dull interlul period, I thought this would be a good time to fully address my current reservations over head coach Unai Emery, and ultimately express where I stand on the Spaniard.
RESULTS HAVE BEEN POSITIVE
As much as we may moan about performances, we can't gloss over the fact that results on the whole haven't been poor, and are what we'd probably expect, barring Watford away. We sit 3rd and just one point off last season's champions who attained a staggering 98 points last campaign- that should only resonate positivity.
Adding to this, we've had a relatively tough set of fixtures, travelling to Old Trafford (which will always be a big encounter and occasion, regardless of how dire they are) and Anfield, as well as playing a North London Derby. With vital players returning to full fitness and set to fully embed themselves into the first-team set up, and a winnable run of fixtures approaching, surely it can only get better?
CONTINUALLY RESORTING TO HIS COMFORT ZONE AND PRAGMATISM
Emery is far from a risky head coach. His insistence and stubbornness in constantly deploying Granit Xhaka as the deepest midfielder in a 4-3-3, and Lucas Torreira as a box-to-box midfielder, despite both clearly not working, is becoming infuriating, and is somewhat reminiscent to Arsene Wenger's latter stages when he refused to attempt to find solutions to ongoing problems. Emery consistently resorts to playing this dysfunctional midfield, which freakishly exploits our already feeble back 4, not providing the protection it so desperately needs.
It also leaves us with very little connection between the midfield and front 3, which so clearly has the potential to thrive on consistent and high quality service. Furthermore, he has a tendency to return to his pragmatic side when under pressure, often so unnecessary and ultimately counterproductive. To put it plain and simply, Emery isn't utilising his resources in the most effective way. And this is essentially what a manager's job is. Results may have not been poor, but they could certainly be better. Had we been more adventurous at Vicarage Road and Old Trafford, we may have found ourselves chasing Liverpool.
LACK OF FOOTBALLING IDENTITY
Arsenal are expected to play in a certain way- Wenger spent years implementing an artistic and creative philosophy at the club, only for Emery to somewhat diminish these values in his opening 15 months. I don't know what he's trying to do. Does he have a plan? We've played in a structureless routine, which sees us fluctuate between total defensive incompetence and attempting to sit on a lead or a draw in a dire manner.
Are we a possession based team? Certainly not- in fact Emery seems happy to surrender possession. Are we a counter-attacking side? I see no signs of us being good in the offensive or defensive transition. Are we a pressing side? Other than periods of the first half against Bournemouth, I haven't seen any signs of a cohesive press. Within 15 months, it should be clear what sort of side Emery is trying to create, and so far I have absolutely no idea, and it's hard to get behind. Within 15 months, I have more questions than I do answers over Emery, and that shouldn't be the case.
Alfie