The Power of Visualisation – the best kept secret in our Arsenal? by Christine Allen
"When I was younger, I used to visualise myself scoring wonder goals, stuff like that. From 30 yards out, dribbling through teams. You used to visualise yourself doing all that, and when you're playing professionally, you realise it's important for your preparation."
Wayne Rooney
"That should be us taking a shock 4th minute lead in the UWCL Final 😭😭😭," Tim Stillman, chief blogger behind the entertaining and informative Arseblog tweets, following Ewa Pajor's opening goal for Wolfsburg against Barcelona.
"There's a parallel universe somewhere where Jen Beattie has headed us into a two-goal lead v Barca and I want to be in it," Stillman continues, rounding off the bittersweet narrative with "That should be our Swedish international forward making it 3-2 in the UWCL Final 😭😭😭."
You can almost hear the Charles Dumont classic' Non, je ne regrette rien' as one follower comments, "Thought about 50 times today "wow what if that was Arsenal."
What this one supporter and Stillman have in fact articulated is what every Arsenal fan is thinking and feeling – it should have been US.
While painful and distressing (I went through half a packet of digestive biscuits mid Twitter scroll), can Stillman's tweets, by virtue of the 'power of visualisation', benefit those players (of which there are many) who follow his account, for our 23/24 campaign? Will they too now be envisaging themselves in next year's UWCL final?
According to the Cambridge Dictionary, visualisation is "the act of visualising something or someone" or "forming a picture of it in your mind".
Numerous studies have discussed its benefits not only for athletic performance but also as a tool to motivate (Martin and Hall, 1995; Slimani and Chéour, 2016), to overcome competitive anxiety (Vadoaab et al., 1997) and through its ability to improve functional recovery following ACL injury (Clark et al., 2014; Frenkel et al., 2014; Newsom et al., 2003).
The foundational science behind this is based on psychoneuromuscular theory (Jacobson, 1930) which notes that when an individual mentally imagines a skill, the neural pathways that light up are identical to those activated when physically performing the activity.
As I researched this piece, I couldn't help but think of the furtive glance Frida Maanum gave the goal in our 1-0 win over Leicester back in May, before sweeping the ball into the top corner and by virtue, keeping our title hopes alive.
You see, Maanum saw that goal in her mind's eye before the ball had taken flight from her right foot.
Take too, Beth Mead's magical performance in our 5-1 UWCL thrashing of Lyon, in which she scored two screamers and delivered one pin-point accurate assist.
Like all prolific goal scorers and playmakers from the WSL and beyond, both Maanum and Mead see in their minds eye a flash of intent before converting.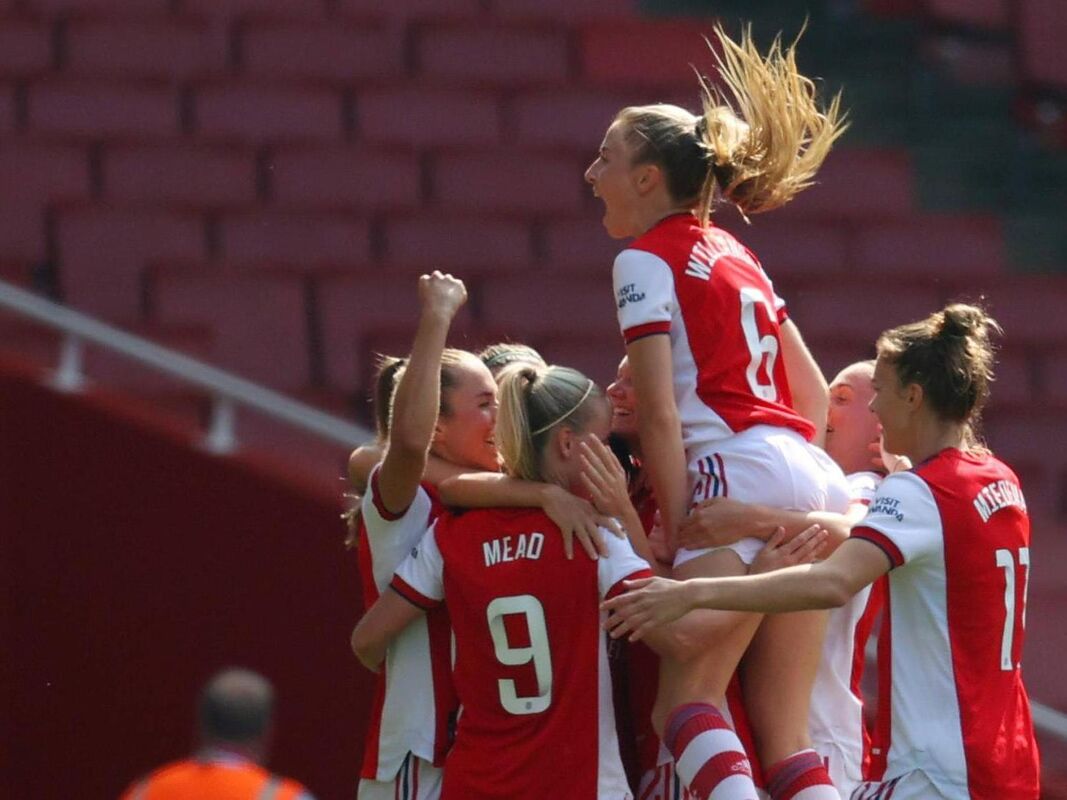 While imagery is undoubtedly important when it comes to preparation for success in sport, speaking your desired outcome, as if it were fact, can also play a vital role.
Speaking to BT Sport in 2021, Chelsea manager Emma Hayes stated that she showed her players a video of Rose Namajunas repeating "I am the best" prior to their 4-1 victory over Bayern Munich in the semi-final of the UWCL.
'Thug' Rose won the UFC strawweight championship at UFC 261, convincingly beating former champ Weili Zhang. Prior to sparking Weili out in the first round she had repeated "I am the best" multiple times as she stared her fierce opponent down in the Octagon.
Closer to home, let's think back to Arsene Wenger and his bold statement that his team could go a whole season without losing – an observation which was mocked at every turn by his contemporaries.
The following campaign, they did just that, going on to play 49 games unbeaten throughout 03/04, graced with the name "The Invincibles" due to their god-like feat.
And so back to the UWCL final.
As I sit, empty biscuit packet in hand (digestives are so underrated), Barca Feminin celebrating on my television screen, I see something else.
Lia Walti and Steph Catley, embracing after the final whistle.
Jonas Eidevall tearing onto the field, thumping the air in delight. Kelly Smith following suit, looking to the sky. Kim Little, surrounded by her teammates, decked in gold and red, lifting the silver triumphantly into the air to a burst of red and white confetti. Leah Williamson cradling the cup mid pitch lap, while Katie McCabe and Beth Mead's ponytails swing in unison as they conduct their comrades to the 90s classic synonymous now with victory in women's football, Freed From Desire.
Better yet?
I'm there.
Christine Allen who is a member of the Dublin Arsenal Supporters Club.
Follow Christine on Twitter.
Do you want to read more about the Arsenal Women's Team? Follow Just Gooner Women on Twitter for regular updates on the Gooner Women!
Freed From Desire