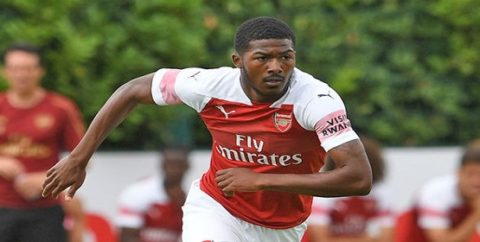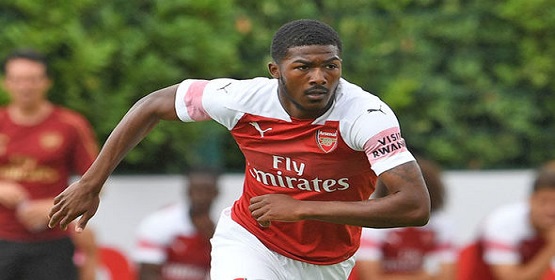 When a lanky-looking youngster returned from loan at Ipswich Town in 2016 and started against Southampton in a 5-0 win, I was immediately impressed. He showed so much maturity and composure on the ball that it didn't seem right for a 19-year-old. He carried the ball in the middle of the field like he was one of the senior members of the team. He was dynamic, quick-thinking, not easily bullied, and very good at driving forward and linking up with his teammates. He also showed defensive solidity and an ability to make a hard tackle. I remember thinking, "This is exactly the type of player we need in our midfield." Back then, we did not have either Torreira or Guendouzi who have since helped to inject some extra tenacity into our midfield recently.
What Ainsley Maitland-Niles did not have back then was the ability to get in the box and be dangerous in front of it like Aaron Ramsey. I thought, "Well, he's gonna have to learn that."
Things were going really well for Ainsley in the middle until we suddenly had an injury crisis at leftback. Arsene Wenger stuck him there and Ainsley showed one more admirable quality: a great burst of pace that allowed him to recover from a beaten position, while still displaying those other qualities that defined him as a player of much composure.
Young talented players often have a problem with combining their standout qualities into a cohesive fluid thing on the field of play. A player like Iwobi for example has a special ability with the ball. He can dribble, pass with high accuracy and verve, and play combination football at a high level. He also broke out in the midfield and nobody can forget his outstanding performances against Chelsea (the infamous 3-0 that eventually spurred a formation change that lead Conte to the title) and Barcelona. He could ostensibly function well as a wide attacker — he has 5 goals and 8 assists for us this season, quite respectable for a young player in the EPL still making his name (some veterans have it much worse). But he has a problem with holding it all together, with delivering on his talents every weekend. The same goes for Guendouzi and literally every young player. It was a problem that could only be dealt with with more game time.
Ainsley Maitland-Niles, on the other hand, was eerily consistent in his first few appearances before he got a season-ending injury. Complaints were kept at a bare minimum. That was another quality of his: he does not appear to switch off as often as other inconsistent youngsters. He simply had it all to become an extremely valuable member of the squad.
This season was when he was supposed to return back to his box-to-box midfield role. Unai Emery reportedly pinpointed him as a big asset in his interview for the job, alongside a few other players. The plan was clear: integrate him into the first team and maybe he'd succeed Aaron Ramsey. At least, that was the plan.
Before you could spell "Birdcatcher", Arsenal were dealing with another injury crisis again, this time on the right side of the defense where they had poor cover. Unai Emery eventually put Ainsley there and some stability returned. But something began to creep up, something new and not wildly associated with Good Ainsley: complaints. Ainsley Maitland-Niles was suffering at last from the same issue as almost every other young player: inconsistency within 90 minutes.
Let's be clear about Ainsley's season: he was spectacular for a converted right-back. One of our outstanding players against Valencia, Napoli and Liverpool, despite the eventual result. As he played more and more, he began to evolve into the beginning of a wonderful attacking outlet. One of his standout moments was when he received a pass in the box from Ozil with his back facing goal against Napoli, and turned immediately under huge pressure to find an on-rushing Aaron Ramsey who dutifully turned the ball in. And against Watford, Andre Gray successfully rounded up Leno and was about to slot the ball in the net only to be frustrated by an Ainsley who had read the situation perfectly well and had made a U-detour around the goalie to block a clean strike into an empty net.
One of his weaknesses was highlighted by Andrew Dowdeswell, an opinion writer for Pain in the Arsenal. Ainsley, he wrote, sometimes shot himself in the foot with a sort of calm overconfidence in his athletic ability to recover from a weak position to gain back the advantage in defense. He argued that maybe it was a natural extension of his composed persona, but the solution would be for him to be a little more proactive, less complacent, adopting the elite sense of top defenders who wouldn't let the opponent enjoy a single bit of an advantage. More caution in addition to his sometimes wayward positioning, a bit more cleverness and maturity, and he would be a world-beater. I had to entirely agree. The Birdcatcher sometimes seemed to rely too much on his athleticism than his positioning. He knew he could catch up with most attackers and put in a hard tackle or at least shepherd them away from goal (as he had done to massive appreciation to Eden Hazard and Mohammed Salah), but he couldn't continually do that. Sometimes, an inch or two makes the difference between defeat or victory.
Now, into the off-season, we hold in our squad a plausible world-beater in central midfield or right-back, also our second youngest starter after Jack Wilshere (he debuted in the Champions League against Galatasary back in 2014, replacing who else but Aaron Ramsey after the first half). We have lost both Aaron Ramsey and Hector Bellerin (for now at least). We have limited funds to fill either positions and urgent need in other areas. If Emery fully returns back to his 4-3-3 next season, the Arsenal management has a huge decision to make over Ainsley Maitland-Niles' future. An inch or two could make the difference.
By Timi
[embedyt] https://www.youtube.com/watch?v=dpvBmnCfxyU[/embedyt]