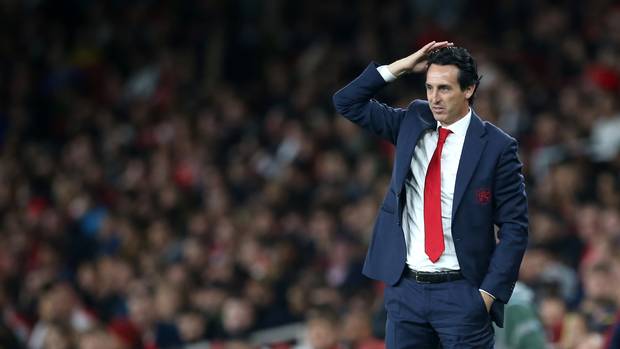 Understanding what some of us feel and our motives as Arsenal fans by Eddie Hoyte
A brother on here told me: "Eddie, you and I we've seen a lot worse than this, so why are you being negative all of a sudden?" I thought about that question for a while. Am I being negative? Am I being a bum? Am I being too harsh on the manager? I know the answers I got, now it's almost as easy as answering any question. Different people come up with different answers, in some cases, most people come up with the same answers.
Our terrible form continues, our struggles and excuses being made by the coach and fans have multiplied a great deal. On paper, we have arguably the third best squad in the EPL but on the pitch, we're as poor as teams struggling to make it out of the relegation zone. Every pundit, supporter, ex-players, legends, all know this squad can do better, this squad would do better, and they've been questioning the tactics for a while now and saying we are losing our identity.
As a supporter, I've been an Arsenal fan my whole life and I've seen us play attractive football, seen us play entertaining football. During those times, we've won trophies, created the Invincibles, struggled sometimes and lost embarrassingly to our opponents.
No single fan expected us to keep winning or keep being perfect, and even right now no single fan expects perfection from the team, because everyone believes "Everyone's a winner and everyone's a loser", "Sometimes you win, sometimes you lose". It's the rule of life, you can't have it your way, it has to be Like that, and I know I didn't make that rule neither was I there to sign it. So, believe me when I say I stand with fans voicing and echoing their pains every single weekend, because we've seen nothing close to perfection from this club since Emery became coach. All we do is struggle, come on, we deserve a smooth ride a few times also don't we?
This isn't the football club we knew; this isn't the football club we wanted.
Wenger was struggling in his last years, his teams would occasionally win some games, lose some games, go back to winning and resume losing in a short while. It was almost as if someone kept flipping the off and on switch. We knew certain games would be tough, and sometimes we got the win still. But I'm not here to talk about the past so here's my point…
Right now, for the past 18 months, we've been in one place, playing badly, struggling to win, struggling to attack, struggling to defend, struggling to play even good football for 75 minutes. Right now, it seems the on and off button stopped flipping and it's been Off for the past 18 months. While it was obvious we were struggling, fans were quick into pushing the blame, citing that the coach was making use of Arsene Wenger's dross, that's why we were playing like that. Some of us knew it was way more than that, it ran deeply from the first game against City. We were never up there tactically, strategically we were struggling, we would play and play, run and run, in the name of pressing; we'd be on the verge of collapsing then the coach would make some changes early in the 2nd half only for that little spark to come back on.
"All hail the genius", "He's a master tactician who normally gets his subs right, and he doesn't even wait till the 75th minute". So many superlatives and compliments, and yet people chose to ignore the bigger question. Why do we have to struggle and struggle first and then until our coach makes substitutions, we'll fight a little? Why can't we fight from the very first minute like top clubs do?
Now he's had his own team and transfer windows, and now we're so much worse than we were in the first place. Let me ask, Arsene Wenger was struggling, we can all agree, and we wanted better performances from our club, right? So, the club felt it's time to move on to a better place and start challenging.
I'm asking you fans now, when we were all excited about getting in a new coach, were you actually excited that we'll do better than Wenger's last two seasons? Or you were excited with the fact that we'll be doing worse than Wenger's last two seasons? If the whole point was to get us better, why should we settle and be told to stay supportive when it's the opposite of better we're being fed? Why take one step forward and two steps backwards? Why should I be okay with it? Why should any real fan be okay with it?
This squad can't really be judged, neither can it be properly assessed under Emery because his tactics, strategies and everything overshadows and clouds everything. I think it's safe to say; it's a different scenario if these guys aren't trying.
In Wenger's last year, his squad was accused of not trying, being too comfortable, too lazy and relaxed, and everyone could understand the solution meant weeding out the bad ones. Under Emery it's a different case, every day we see it; these guys come to the pitch, they try, they give their all, do what they're being told to do, they run all over the pitch, they play from the back and hold on to the ball till God knows when, but yet it results into constant failure, struggles and woeful performances.
Aubameyang put's in his shift up front, you know he's a smart player to get the goals when he's playing with enough service behind him, and yet he has been denied that facility. (The Ozil never had world class strikers to play with theory comes to mind).
Lacazette gives his all, but there's no way he can be the creator, the runner, the strength and the goal scorer.
Pepe with his confidence in one on one situations comes to mind also, he's never scared of taking the ball to the opponents. He's a player who wants to do something with the ball.
It goes on down to the midfield players too, our specialist DM who can't do his job anymore, suddenly wants to turn into Kante instead of being Torreira. People say he doesn't have the strength to last long in games so am asking if that's the case, why push him up front to go do the same thing Kante is doing? Why ask him to start pressing and marking up front and doing it all at the back to cover for the defence when he's not blessed with the same engine Kante has? Kante has a lot of energy to burn over a hundred minutes, Kante has been the best DM on the planet for the past 3 seasons. When we got Torreira, we wanted our own DM not our own Kante. We got Torreira and we loved his performances until he was moved upfront after the Spurs game last season to be our own Kante.
Granit Xhaka has always been an average player under Wenger, but he wasn't this terrible either.
Ceballos has had just one awesome performance, he's always being moved all about the pitch, he plays a ten today, tomorrow it's the eight, next time it's besides our 4 and so on.
Our defenders have their own struggles and it gets worse with the fact that our midfield isn't stable enough to cover for it.
I could go on and on all day, but my point is at least we see these guys on the pitch trying to do something, trying to do what the coach wants, his philosophy, which clearly you and I, and obviously the players themselves don't know – and it's all coming out wrong. How can we assess this team and how can they build the bond and connection stronger when the coach disrupts everything every game?
It's no coincidence pundits, ex-players and legends keep calling for a Brendan Rodgers or a new coach? They could've pointed out how Pepe isn't this or that, how Ceballos isn't this or that, how Torreira isn't this or that, and so on but instead they keep hitting on the same thing every time. The manager, his tactics, strategies and selections!
It's what I've been doing since last season, and what I'll keep doing. I don't doubt this team, no! I'm a supporter and a fan of Arsenal football Club. I'll always stand behind the club and it's players! Lose, win or Draw, but when one man keeps disrupting everything for the past 18 months. When one man consistently makes this team look average and bang poor then I choose to stand up and voice it out. We all know the players can't come out and admit they're confused, tired or lost as to what the coach wants from them? Even though we've read so many reports of it?
It's what those of us who can voice out choose to do, and we won't back down now, when even experts and our past legends keep on echoing the same thing we've been voicing. No, it's not negativity, I'm not being negative, in my line of work you're not allowed to dwell in a place of negativity. Ask any musician, producer or entertainer you know. Negativity is never allowed anywhere inside the studio.
So, get us a proper coach, and you'll see every one of us standing behind him and the boys BECAUSE WE KNOW THIS SQUAD IS GOOD ENOUGH TO CHALLENGE FOR TOP HONOURS! BECAUSE WE KNOW THIS SQUAD CAN ACHIEVE SO MUCH TOGETHER! Just get in a coach to put them the right way and do things positively, and you'll see why most of us don't want this man Emery in charge. I don't believe Leicester has the stronger squad, not even Chelsea, I do believe we have the better squad, but just because through one man we keep struggling and we want that loophole to be filled, does it mean I'm devoid of my beliefs? Does it make me any less a believer in my team? Does it make me a plastic fan? A glory hunter?
To end this brothers, now I'm asking Are you really satisfied we're going backwards, turning into an average team despite having a mixture of fantastic senior and youth players?
Are you all saying you can judge this squad when, you, I and everyone else sees the struggle is coming from the coach?
See you in the comments….
Eddie Hoyte