If there is one player at Arsenal that has come in for a ton of abuse and criticism from his own fans it is defender Shkodran Mustafi but statistics show that he was our most effective and reliable defender.
I have had a look at the statistics for Arsenal defender at the official Premier League website and they make for some very interesting reading.
Passes
Out of all the defenders Mustafi has made the most passes, 1,765 and even better, he made the second highest amount of passes from the entire team, Only Granit Xhaka made more.
Touches
Same with touches of the ball, Musafi was by far the top defender with 2223 touches and only Xhaka had more in the entire team.
Tackles
Again, Mustafi made more tackles than any other defender with 62, that is 20 more than second-highest Sokratis on 42 and out of the entire team only Lucas Torreira made more with 65.
Fouls
The German did make more fouls than any other defender but less than Granit Xhaka and Alexandre Lacazette.
Dispossessed
With so many touches you would have thought that Mustafi would have been dispossessed the most but nope, Saed Kolainac, Hector Bellerin and Stephan Lichsteiner lost the ball more often and Mustafi was dispossessed just six times.
Clearances
Yes, you guessed it, the most clearances by any player at the club was Musafi and he made 53 more than any other defender.
Clearances off the line
Only three of our players made clearances off the line with one each and of course, Mustafi was one along with Ainsley Maitland-Niles and Nacho Monreal.
Now, we do need some context, Mustafi played more minutes than any other Arsenal defender and the stats do not always tell the true story, as an example one single mistake can have a bigger impact than ten other mistakes but even so, over an entire season Mustafi has proven that he is no worse than any other defender and the stats have him as one of our better more reliable defenders.
Some will no doubt say that he was the best of a bad bunch so I decided to find a Tottenham defender that played more or less the same amount of games and that was Toby Alderweireld who played 34 games compared to 31 from Mustafi and it really was an eye-opener.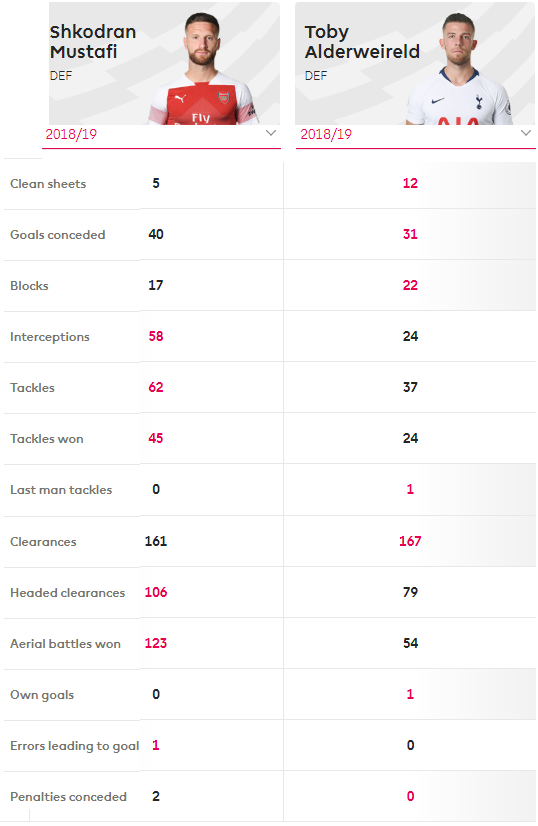 In some areas, Alderweireld has a better record but in many others, it is Mustafi with more interceptions, tackles, tackles won, headed clearances and aerial battles won.
On those stats alone you cannot argue that the Tottenham man played any better than Mustafi and yet it is our defender that is dumped on from a great height.
Just something for us all to consider.