The Arsenal legend Thierry Henry has finally been given a job by the Gunners as a youth team coach just a few months after retiring from football with MLS side New York Red Bulls, and he has been welcomed by all Arsenal fans from Arsene Wenger downwards.
Although he is only just beginning to take all the neccesary coaching badges to qualify to be a Premier League manager, Henry has made it clear in the past that his ultimate aim is to take over as Arsenal manager after Arsene Wenger retires. Henry was quoted in HITC as saying: "The thing is I have so much respect for Arsene, and if it does happen eventually, one day, it is going to have to be after him.
"I don't actually want to talk about it right now because he is doing such a great job, but hopefully after him, yes."
It will be a very brave man that takes up the reins at the Emirates when Wenger finally retires as he will be (like Sir Alex at Man United) a very tough act to follow. Le Prof still has two more seasons left on his current contract and very few Gooners would be surprised if he remained at the club much longer than that, even though some would prefer him to leave as soon as possible…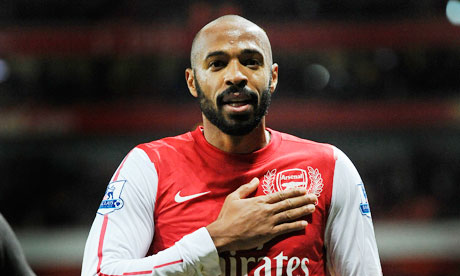 There have been many ex-Arsenal legends that are candidates to become Arsenal's next boss, with Tony Adams, Steve Bould, Dennis Bergkamp and others already much further advanced in their management training, but even those big names hardly know the club better than Henry. Would Thierry get your vote to be next manager when the time comes for Wenger to step down?