They say that you should not count your chickens until they are hatched and I don´t think that Arsenal fans had, but there was still a lot of hope and optimism that we might be able to complete the transfer of the Borussia Dortmund and Germany international star Marco Reus in the summer transfer window. Those hopes were boosted recently by reports that the player was keen to work with Arsene Wenger.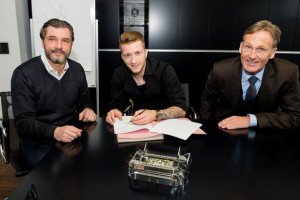 Unfortunately this picture shows the talented and dangerous 25-year old forward signing a new contract extension with his struggling Bundesliga club, which will keep Reus at the Westfalenstadion until 2019. Unfortunately for clubs like Arsenal who were hoping to swoop in the summer and take advantage of a £20 million release clause, it appears that Reus is one of those rare examples in modern football of a loyal player.
The pacy forward was born in Dortmund and spent 10 years in their youth system. He also snubbed his friend and former team mate Robert Lewandowski on the pitch this season after the Polish striker ran down his contract and then signed for Dortmund's big German rivals Bayern Munich.
This contract does not necessarily mean that Reus is off the market entirely. There may even be a new clause in his contract with the club currently battling relegation, but he will certainly not be going anywhere for just £20 million.