Spurs Tactical Analysis by Alfie Culshaw
3 TACTICAL POINTS vs Spurs:
1 – SOKRATIS ALL OVER THE PLACE
Whilst Xhaka has rightfully been heavily criticised for his reckless challenge on Son resulting in Spurs winning a penalty and doubling their lead, I've been surprised by the lack of criticism for Sokratis, who made a similarly disastrous mistake. Many will say it's because this Xhaka incident was hardly in isolation, and is part of a collection of high-profile errors from the Swiss, which is true, but Sokratis' clumsy, rashness has sort of gone under the carpet. The Greek defender has displayed this ill-discipline on a number of occasions and this has cost us. On Sunday, he found himself in no man's land when Lloris pumped the ball forward to Kane and decided to neglect his defensive positioning and impede Xhaka, who was trying to win the header. This would've been fine, and an example of commanding defending, had he won the header. Instead, a pathetic and half-hearted attempt to win it left him out of position and enabled Spurs to launch the attack. Add to this his lack of awareness from Leno's parry to notice Eriksen sneaking in, and this was a really poor day for Sokratis.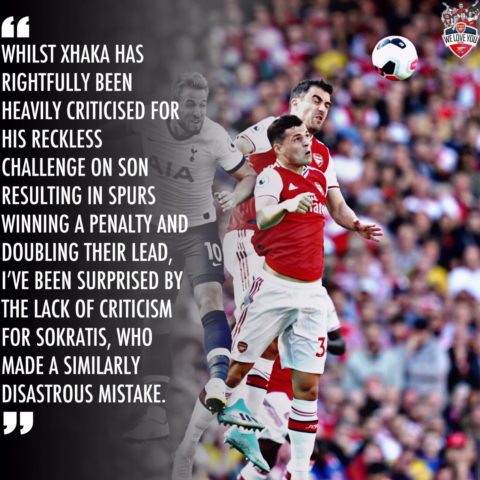 2 – LUIZ MAKES XHAKA ALMOST UNNECESSARY
Whilst Xhaka's reckless nature and lack of concentration are certainly infuriating elements of his game that need cutting out, I've always supported him to an extent, due to what he adds to our side in possession. His expansive passing from deep areas and ability to retain the ball and help sustain attacks have made him vital to our side in recent years, despite all his flaws. However, with the acquisition of David Luiz, who possesses this ability to play these expansive passes from deep and get attacks going by coming into midfield, I'm starting to wonder if Xhaka is needed anymore. If we can take someone out of our side who is likely to make an error due to ill-discipline or immobility every other game, then obviously you'd like to do it. With Luiz possessing the attributes that make Xhaka valuable, maybe its time to opt for our more exciting, agile and young midfielders. Having said that, we know it won't happen.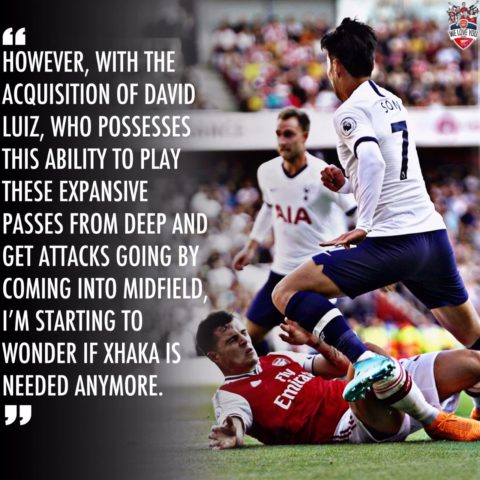 3 – WORKMANLIKE MIDFIELD 3 ISN'T EFFECTIVE
Emery opted to deploy a relatively workmanlike midfield 3 on Sunday, possibly opting to solidify us defensively to counteract the front 3 used. However, with the immobile Xhaka placed at the base of the 3, it almost worked to deter us defensively. Spurs carved through us easily on the counter time and time again in the first period, with Torreira and Guendouzi often finding themselves in unnatural forward roles. On top of this, there was no one to link the front 3 and the midfield, no creativity, no one getting in between the lines, essentially making the front 3 ineffective. Ceballos, Ozil or even Willock must be used to fix this, as shown when the former came on.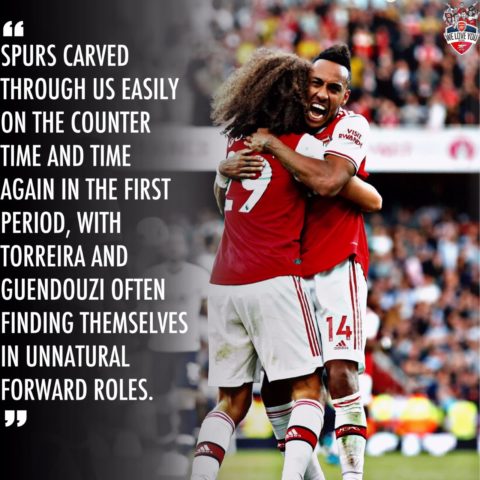 Anything else you saw? Tell me below….
Alfie