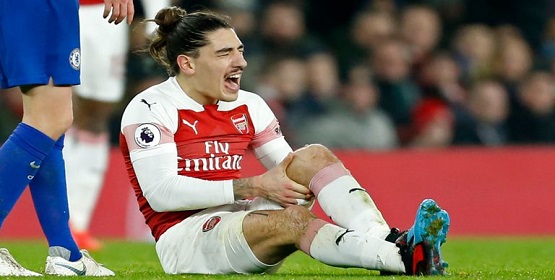 Unai Emery and Emile Martinez had quite an intensive press conference ahead of tomorrow's Arsenal match against Standard Liege, and we heard a lot about how he is enjoying bringing our very talented youngsters coming through and giving them lots of playing time in the early rounds of the Europa League and the League Cup.
But the thing that really excites me is the fact that our long time injuries are returning, most importantly, Kieran Tierney and Hector Bellerin. Another good run out from both of them has been promised by Emery, but to be fair he wants to take it easy and not risk overplaying them too quickly, which I actually agree with.
I also thought that Emery's interview sounded much more coherent and easier to understand, after all the criticism this week over his quality of English. All these things are making me feel very positive about the future and I am looking forward to seeing our youngsters being impressive yet again tomorrow night.
This is what Emery said about Tierney and Bellerin this evening: "Tierney still needs time and confidence, training and playing," Unai Emery said on Arsenal.com.
"Thursday is a good opportunity again, because he is ready to play. He will take minutes, he will take confidence and will be able with us to show also his progress.
"He didn't play in Manchester because he had a small problem – not important – but the doctor told us that it's better for him to be here, working alone and preparing for the match tomorrow.
"We are with him, taking precaution, it's also important with the national team and we are thinking it is not the moment to work with them. For the next matches, I think he is going to be ready to play with us and to play with them.
"Hector Bellerin is the same, but with a small difference. Because he was injured for more time and after a long time, nine months, I think he needed to first play 15 minutes with us last week, perfect, the first minutes.
"He played with the under-23s for taking confidence and he was doing actions on the pitch to feel good and to repeat them when the level is higher. For example, for tomorrow, we are thinking that it depends on the training that we are going to do now on how he is feeling. But if he is feeling well, then normally, he is going to play."
Just for that reason I am even more keen to watch the game, but also to see our other exciting youngsters in action. It's a shame Eddie Nketiah isn't also around to show his talent, but Saka and Martinelli are just as promising in my book.
A bit of gametime tomorrow will give us a great indication of how ready they are for the Premier League games coming up. I don't know about you lot, but I am feeling very positive about the rest of this season. Are you?
Admin