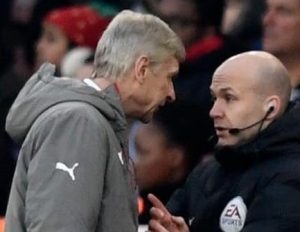 Most Arsenal fans would have been shocked by Arsene Wenger's behaviour towards the end of yesterday's match against Burnley, where he was seen manhandling the 4th official and ignoring his instructions to leave the players tunnel. Let's be honest we usually complain that he just sits in his seat playing with his zipper rather than get emotionally involved with the actions on the pitch, except for the occasional thrown water bottle!
So he is hardly known as a trouble-maker when it comes to referees decisions and he surely knows that any overt aggression to the officials will always be punished by the authorities. According to the former head of Premier League referees Keith Hackett, Wenger should get the most severe punishment available for his unacceptable actions, which is to have absolutely no contact with his team for six full games.
Hackett said in the Telegraph: "For the sake of every official at every level of the game the FA must throw the book at Arsene Wenger after his disgraceful behaviour on Sunday.
"They need to send out a strong, clear message – officials are sacrosanct and if you lay hands on them you will pay a heavy price.
"A one or two match touchline ban just won't cut it on this occasion. A slap on the wrist would tell every Sunday morning player that it's OK to abuse or physically assault officials.
"What I would like to see as an absolute minimum is a six-game ban – but a far more severe punishment than simply being banished from the touchline. Instead, I would like to see Wenger barred from any contact with his team once inside the stadium. Uefa regularly impose this sanction and I feel it has far more impact than a manager simply being unable to stand in the technical area.
"The reason I say that is a touchline ban often makes very little difference. In that scenario the manager sits up in the stands – often with a better view of the action – and communicates with his bench via mobile phone or messenger. They can go into the dressing room at half time and make the key decisions. Under the Uefa regulations you sit alongside a delegate and can have no contact once the players are off the team coach. You are powerless from that moment on. Managers hate it, but it acts as an effective deterrent."
I agree that it does not look good to the players and young fans watching, and can give the impression that it is okay to abuse the officials, but is a complete six game ban a bit harsh, considering he is not a serial offender?
Admin