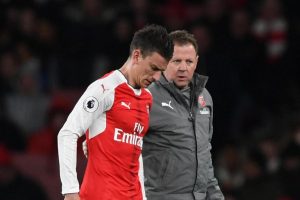 We have already heard that Olivier Giroud has been sent back to Arsenal from the France squad and is out of the friendly match against Germany this week, but now we have even more worrying news from L'Equipe who have told us that our top defender Laurent Koscielny missed yesterday's training session with Les Bleus.
We all know that The Boss has had ongoing Achilles problems for a few years now, and we have been told before that there is little that can be done but to rest when the problem recurs, and Koscielny has made no secret of the ongoing injury. "I have some problems," he told SkySports last year. "Now it is better. I know it is a difficult injury because you need to work every day on this. Every morning I have my treatment for my Achilles and I know I need to do this to the end of my career.
"Now, every day I do this and it is okay but sometimes with all the games we play every three days, it is difficult and I need to have a rest to recover well for my Achilles.
"That's why last time I was injured but now it is okay with this. You need to be careful with this because if you stop doing your own exercise programme for one or two weeks, the problem will come back. I know now I need to do this every day to be fit for my team."
So the odds now are that Koscielny will not be available for Spurs next week. Luckily we have Mustafi and Chambers coming back from injury but they are both lacking in match-fitness right now. Rob Holding is also a doubt, and things were so bad last week that Wenger played Francis Coquelin in an unfamiliar centre-back role against Man City. We are always weaker without Kos The Boss on the field, but it looks like we will have to deal with this against Spurs….
Darren N