Normal service is resumed at Arsenal by DN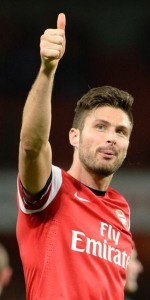 There will be a million Arsenal fans shouting "I told you so" this week, as the double injury blow to Theo Walcott and Alex Oxlade-Chamberlain has left the Gunners in a precarious position for their next few games. Not only have we lost those two as possible right-wingers following the injury to Aaron Ramsey, it has also left us with only ONE recognised centre-forward in Olivier Giroud until either Walcott or Danny Welbeck return to full fitness.
Luckily this time, we only have three more games until the international break, but it means that Giroud will have to play all three games at least. Another "I told you so" will go out for the fact that every Arsenal fan know that it is nigh on impossible for Theo to go a whole season without injuries. It is not such a surprise either when you consider the fact that Tuesday's calf problem is Walcott's 26th injury in the last five years and he has only made 20 starts for the Gunners in the last two seasons….
I know that Wenger will be praying that Walcott returns in timely fashion and both him and Giroud can get through to Christmas without further problems, and then Le Prof can say that Welbeck will be "like a new signing", but with still two months (and 12 games) to get through before then it is highly unlikely.
So I am going to be the first to say "I told you so" to Wenger, after he refused to get in any new backups in the summer to relieve our already thin squad, despite knowing that Welbeck was out of the picture for the forseeable future.
Wenger may complain that he lost his title chance again due to a glut of injuries, but no-one will be listening because, actually, this happens every season.
Darren